Enjoy a budget-friendly holiday in a tent
The soaring prices seen in pretty much every aspect of our lives over the past year have come as an unpleasant surprise to us all.
Inevitably, they will have an impact on holiday plans, too, and many will be going back to the drawing board as a result of the price hikes. Read on for some nifty ideas that may just save your holiday this year!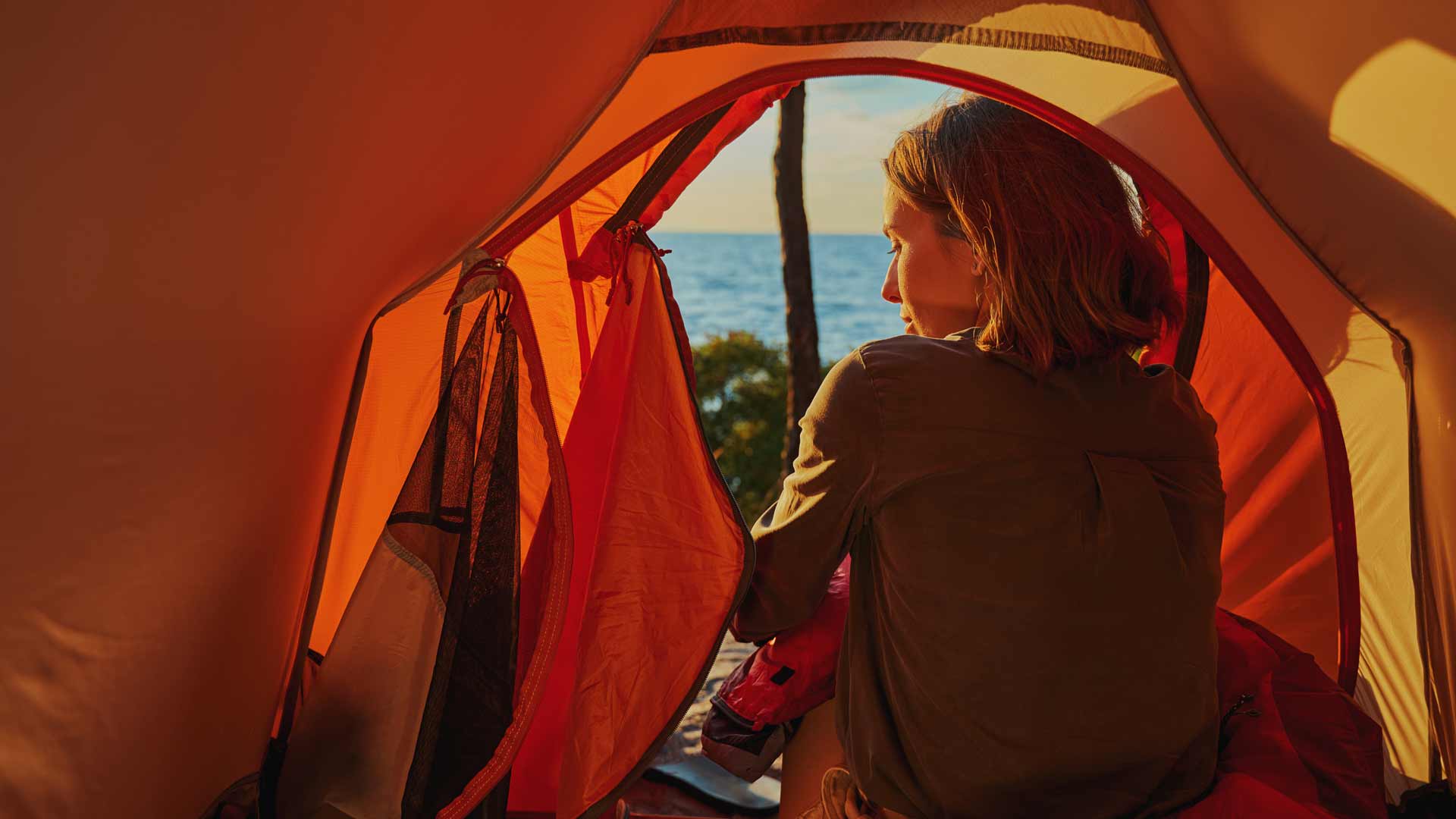 How to reduce the cost?
When planning a holiday, the budget is an important consideration. One usually thinks carefully whether each item is worth adding to the package. Travel in itself can be a significant cost, especially with today's fuel prices.
Unsurprisingly, the easiest way to cut the cost of a holiday is to stay in Hungary, and not travel too far. Fuel prices are even higher abroad, so you should definitely take into account much it will cost to fill the tank before you reach your destination.
Accommodation – sleeping in a tent is one of the cheapest options
Apart from fuel, accommodation is the other main budget item, and it is responsible for the lion's share of the cost of a holiday.
The last year saw price increases of between 15 and 30% across the board, which had a major impact on how much a holiday sets back the family budget. You can save quite a bit, however, by opting to stay in a tent.
The prices of hotels around Lake Balaton have gone up considerably this year. You don't have to be a maths genius to calculate how much a week-long hotel stay will cost you by the 'Hungarian Sea'. And if you go for a slightly more upmarket hotel, the bill can easily double.
The same holds true for apartment stays. Some have a price tag to rival any hotel, so even a quick review of the options will make it abundantly clear that staying in a tent is definitely the cheapest option when it comes to accommodation.
You can save by opting for a tent with us, because accommodation for two is included in the price of a tent pitch. Sleeping in a tent for a family of four, for example, will costs you a mere fraction of what the hotel bill would be.
Tent pitch prices at Mirabella Camping »
The benefits of staying in a tent
Mirabella Camping offers perhaps the best-equipped campsite around Lake Balaton. All our services are available to those staying in a tent: you can hire tables and chairs or a bicycle, and there is a whole range of entertaining children's programmes on offer.
Click here for more details about events at the campsite »
You can book your tent pitch online
Mirabella Camping offers online booking for tent pitches, so you can guarantee a spot even during peak season. Sleeping in your own tent is the cheapest option to stay on our campsite, but we also offer caravan pitches where you can set up your tent if you wish. Caravan pitches have power outlets fitted.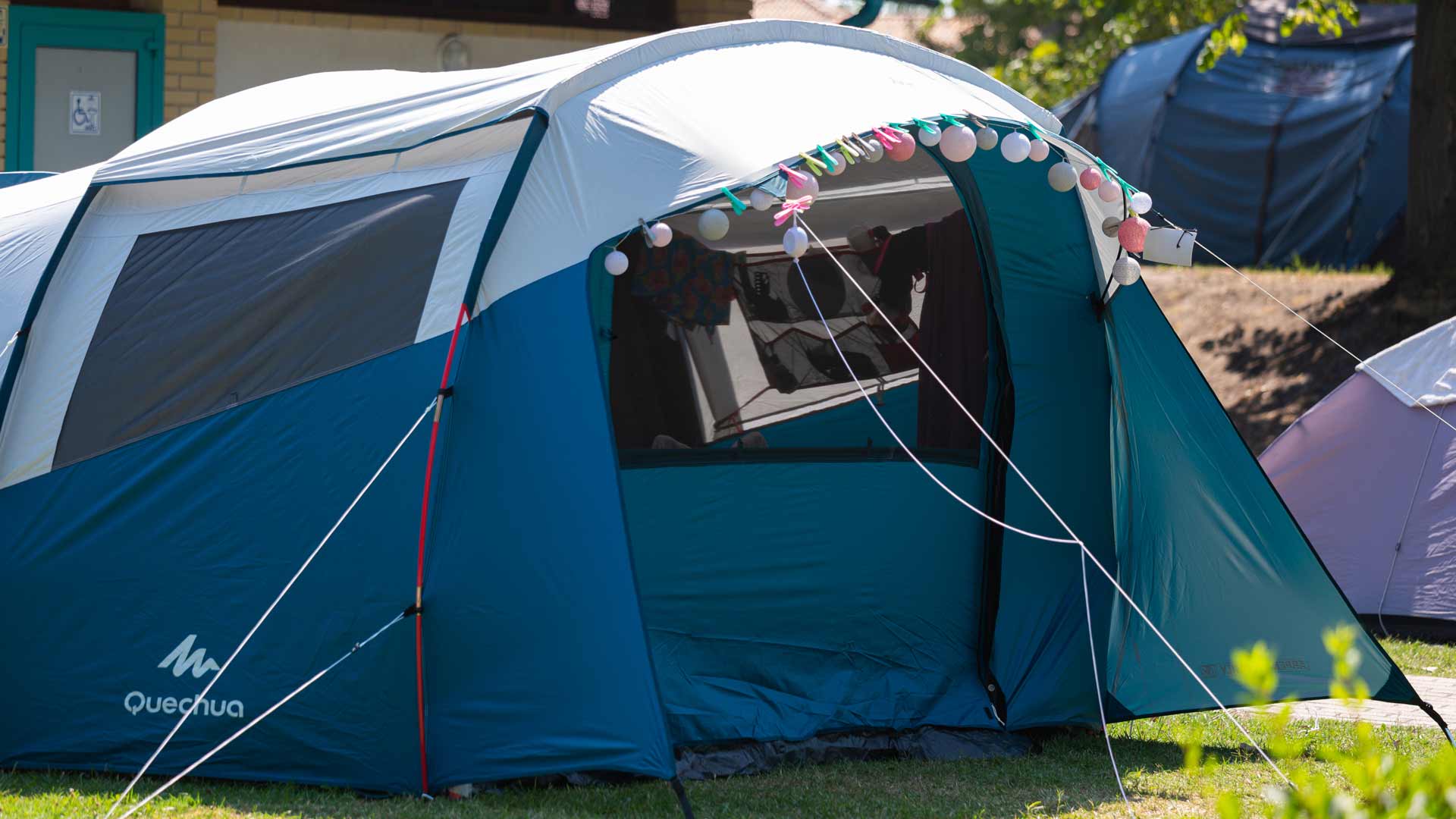 Tent holidays are fun!
Camping is not everyone's cup of tea: some think it is uncomfortable, not realising they are missing out on the most fun experiences. You may remember how excited you were as a child to finally have the tent set up, and how pleasant it was to sleep outdoors in mild summer nights. What is more, the high-tech tents available today are far more comfortable than the ones you knew as a child.
What makes a good tent?
It is important to pick a tent that suits your needs. You can even buy inflatable tents, which make pitching them a breeze.
With the right air pump, you can set them up in a mere 10 minutes, and they offer a comfortable place to stay for the entire family. Let the kids help for some extra fun!
Setting up a pop-up tent literally takes only a few seconds. Self-inflating mattresses are available as a space-saving option. Despite being quite thin, they are surprisingly comfortable for sleeping. If you arrive by bike, pick one of these tents for maximum convenience.
They are light and portable, so you will have somewhere to sleep no matter where nightfall finds you.
If you drive to the campsite, your imagination is your only limitation. Tents come in a dizzying array of different sizes and levels of luxury. Some are so spacious they can even accommodate a bed for you to sleep in.
Extra services at Mirabella Camping
Picking the right campsite will make a world of a difference when it comes to comfort. For example, Mirabella Camping Zamárdi offers a range of services that will help ensure you have a pleasant stay. We have a number of snack bars and restaurants, so a delicious meal or a quick refreshment is always only a few steps away.
We also have a range of sporting facilities and other activities. Mirabella Camping has its own private access to Lake Balaton, offering stand-up paddle board and surfboard hire, and even lessons if you have yet to try these activities. We also have bicycles for hire, and indoor facilities for football and volleyball.
The campsite has an experience pool, and those looking for a truly indulgent experience can enjoy our mobile sauna.