Holidays with your pet – Why choose a dog-friendly campsite
Many would-be holiday-makers are forced to stay at home because they don't know what to do with their pets while they are away. Even travelling with a baby can be quite a conundrum, because it is impossible to know in advance if the accommodation will be suitable and have all the equipment you need, how the baby will cope with the journey, and so on. Going on holiday with a pet is even more complicated, but we still encourage everyone to book that long-awaited holiday, provided your dog is friendly and you are prepared to observe a few basic rules.
How to choose your accommodation?
This is probably the most important question. The number of dog-friendly accommodation providers in on the rise, but that in itself is by no means a guarantee that you will both have a comfortable holiday. A hotel may be too cramped, have nowhere nearby to go for walkies, or maybe other guests will be bothered by the presence of a dog. You should also consider whether there are any venues nearby where you can have a great time while accompanied by your four-legged friend.
What is the ideal dog-friendly accommodation like?
If you want to tick all those boxed, dog-friendly campsites are probably your best choice for a holiday together. Campsites are situated in the great outdoors, and they typically have expansive grounds, with plenty of room for everyone. Your dog will find it much easier to adapt to the new environment, and will have a lot more fun, if they have enough room to run around. It is also important to consider how other guests and the host approach dogs. It is probably not an unfair generalisation that those who enjoy camping holidays like being outdoors and love nature, including animals.
They will probably enjoy having your dog around, and not having to worry about other holiday-makers' reactions will take a great weight off your shoulder, too.
Still, before embarking on this adventure together, it is worth reviewing a couple of potential pitfalls.
Dog-friendly campsites are only suitable for animals that are tame, friendly, used to being around people and good with children, because practically all campsites will have young guests, some of whom may want to pet your dog. Ideally, your dog or other four-legged friend will be calm and 100% guaranteed not to pose a danger to anyone.
It is also important that they should not be aggressive towards other dogs or irritated by them, because there is a good chance any dog-friendly campsite will have more than one furry guest at the same time. Most places require that dogs are kept on a leash at all times, but it's still best to make sure your dog isn't prone to running away. Finally, to make sure that other holiday-makers can enjoy their well-earned rest in peace, your dog should not bark excessively.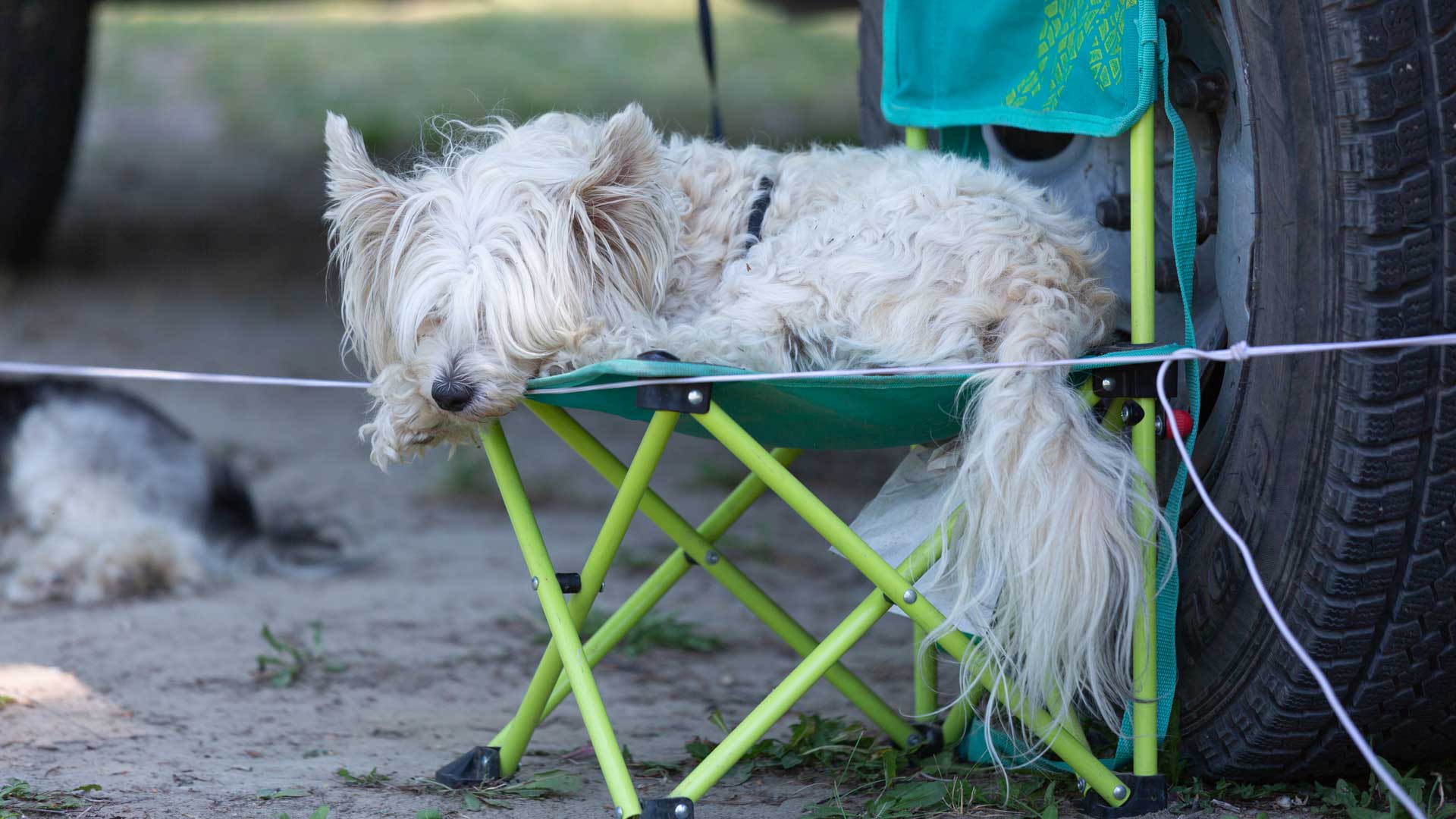 Mirabella Camping Zamárdi, a dog-friendly campsite
A dog-friendly campsite
Mirabella Camping in Zamárdi is the ideal destination if you are looking for a relaxing break because your four-legged friend will receive a warm welcome whether you're staying in a mobile house, a caravan or a tent. Naturally, dogs are also welcome at the on-site restaurants and snack bars.
Please familiarise yourself with and observe the following rules:
Mirabella Camping will only admit pets that are calm and do not intimidate other guests. An extra fee is payable for them.
All pets must be healthy and fully vaccinated. Please make sure to bring your pet's vaccination log because it may be checked before admission.
All dogs must be kept on a lead while on the campsite.
Please do not leave your dog in the mobile house for extended periods of time because that may cause separation anxiety (which manifests, for example, as barking or scratching the door). Before you set off on a holiday together, please make sure your dog is happy to be left alone in a strange place.
Please do not allow your pet on the bed and other furniture at any time. Owners will be held responsible and financially and legally liable for any damage caused by their pets in the mobile houses or anywhere else on the campsite.
Beaches where pets are allowed in the water are marked with the appropriate sign.
Always clean up after your dog!