A dog-friendly beach is opening at Mirabella Camping
The 2023 holiday season will be one for the yearbooks, with a fantastic dog-friendly beach opening at Mirabella Camping. In a first for the whole area, you can bring your four-legged friends along with you to experience all sorts of water-based adventures together.
Most people who have dogs consider them members of the family, and it is only natural that they don't want to leave them behind when going on holiday. Although animal-friendly accommodation providers are still few and far between, there are at least a couple of them around. But even they won't allow dogs on the beach. Zamárdi has fantastic hiking routes to attract nature-loving animal-owners, but until now they sadly had to keep their dogs away from the enticing water of Lake Balaton. A real shame because no relaxing holiday in the company of your pets can be complete without them joining in all the fun activities that you love, whether hiking or swimming in the lake.
Pets are welcome to join you on your tent pitch or caravan plot or even in one of the comfortable mobile houses at Mirabella Campsite. Camping holidays by Lake Balaton are unforgettable experiences, and it's little wonder that even dogs are drawn to the water. Splashing about in the water is a great way to have some fun together, and now you can try it for yourself during your camping holiday. If you're bringing your dog with you on holiday, don't miss Zamárdi's only dog-friendly beach!
A holiday your dog will love
The dog-friendly beach is the perfect place to relax in the summer, and it is suitable for all dogs, regardless of age, breed or size. You get a chance to spend some time together in the fresh air by the water, and you can relax while your four-legged friend is having some fun. Dogs love playing in the water, and it is a great way for them to cool down in the summer heat. Swimming is also a great way to satisfy their need for physical activity. During a fun day at the beach, they will run themselves to exhaustion and are practically guaranteed to have a great night's sleep.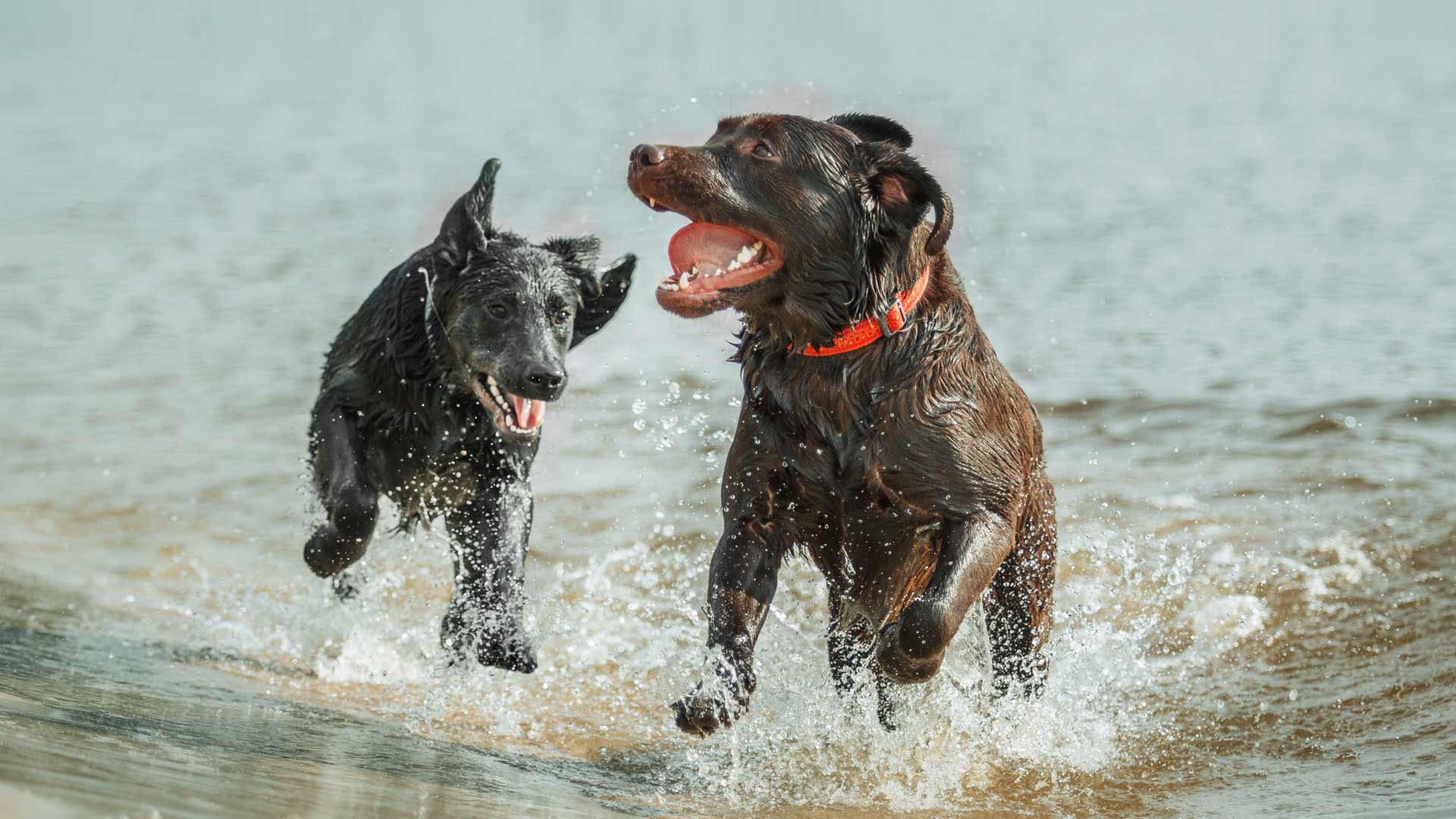 Things to note before setting off for the beach
The dog-friendly beach is located right within the campsite, with a designated section of the beach where dogs can enter the lake. This delineated area allows dogs to have some unrestricted holiday fun while their owners are lounging about in the sun by Lake Balaton.
Going to the beach with your dog is great fun, but it is important that you observe the relevant safety precautions. Do not leave your dog unattended, and please keep the beach tidy.
A trip to the beach is a thirsty affair for dogs just as much as for humans, so please bring water and a drinking bowl with you. Please don't forget the dog waste bags, either, and clean up after tour pet. Luckily, you won't have to walk far with all that stuff because the dog-friendly beach is situated right within the campsite.
It's a good idea to teach your dog how to behave in the water before you visit the beach. You don't need anything complex, but they should be responsive to basic commands. Learning to comply with a simple "stop" or "come here" is usually not too difficult for any dog. If your dog answers to these commands and you pay attention to what they're getting up to in the water, you can both have a perfectly safe and fun beach experience.
Before your dog first ventures into the water, splash some water on them. A gradual introduction to water will help ensure they learn to enjoy going to the beach. If this is the first time your dog is going to swim in a lake or other natural water, make sure to try a shallow area first, and only move on to deeper sections step by step.
Following only these couple of guidelines will guarantee a fun and safe time and a memorable experience for everyone by the lakeside.
Dog-friendly accommodation by Lake Balaton
Mirabella Camping is a dog-friendly accommodation provider, and the perfect place to stay if you want to bring your pet with you on holiday. The expansive green grounds of the campsite offer relaxation to you and a great place for your dog to have fun. Whichever accommodation type you choose, you can bring your pet with you and, for an additional fee, they can enjoy the holiday with you. More information on the rules of having an animal with you on holiday is included in the campsite regulations.
Enjoying a holiday with your pet is about more than simply bring your dog along with you. Making memories and relaxing together must also feature, and that is exactly what our one-of-a-kind dog-friendly beach allows you to do, without even having to leave the campsite. If you'd like to learn more about accommodation options, you can also request a personalised quote.
Don't miss out on this fantastic opportunity! Book your accommodation at Mirabella Camping, and be among the first to try our dog-friendly beach. You can calculate the price and make a booking online quickly, and you can pay for your accommodation using your debit or credit card.