What are the benefits of active relaxation?
In the summer, it is natural to want to do nothing but put your feet up and relax. Some actually sleep through most of their beach holidays. But is it really good to just lie on the beach and do nothing? After a holiday spent lounging about, it is extremely difficult to return to your normal routine; it is easy to get used to doing nothing.
Sports help recharge the body
Holiday destinations typically offer a range of sports facilities, and it is well worth making use of them on occasion. This is good for your body, but the various hormones released during exercise will also elevate your mood. By striking the right balance between passive and active relaxation during your holiday, you are guaranteed to return home satisfied and feeling good.
Mirabella Camping has everything you need to do sports
Everyone has their own preferred type of exercise, so our campsite offers a wide selection of activities and sports facilities. This article provides a brief overview of them.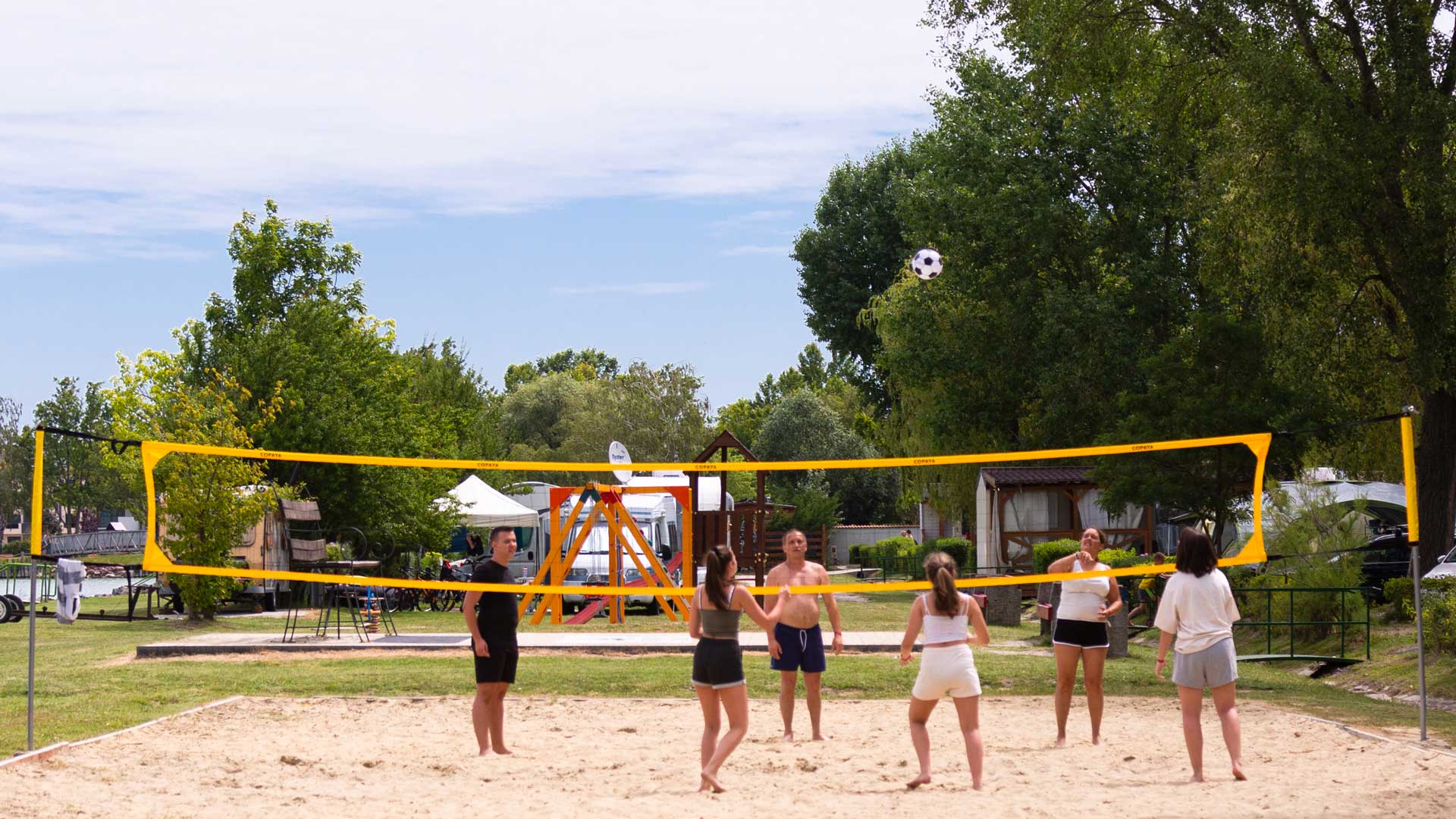 Individual sports
Running is quite fashionable these days, and once you start, you cannot stop. There is not much to add to that, but holiday-makers who stay at our campsite and want to go for a morning or evening run can easily do so while enjoying the sunrise or the sunset by Lake Balaton, since the campsite has direct access to the lakeside.
Zamárdi hosts several running competitions, including Maratonman, which takes place on 16 September.
Team sports – the most fun you can have while actively relaxing
Those who prefer individual sports usually pick exercise that can double as a form of meditation to help them turn their gaze inside and find their balance. Team sports, on the other hand, are about being and playing together; winning is only secondary. Our campsite is the perfect place to enjoy these activities.
We have everything you need for active relaxation: campsite guests can enjoy a football pitch and a beach volleyball court. In order to make the games even more exciting, we even hold tournaments for those who enjoy the thrill of a real competition.
Start the day re-energised
We also have good news for those who enjoy exercise in the morning. You can join yoga or Zumba classes or engage in some strength training or stretching at the campsite early in the morning. Check out the event calendar for the exact start times.
Click here to see the weekly breakdown of events »
Water sports
Ultimately, though, a holiday by Lake Balaton is about water, so naturally you also have a range of water sport options to choose from. The campsite has its own private beach, where you can rent all the equipment you will need for water sports. Everyone knows pedalos, but the current craze is SUP, or stand-up paddling. If you are unsure how to start, our expert instructors are always on hand with some pointers.
The same stands for windsurfing. You can hire a surfboard from us, or even sign up for the Zamárdi Windsurfing School. The Windsurf Center team will help you have an excellent time and fantastic fun.
Active relaxation – How about the children?
Children do not worry about active relaxation: to them, the need to stay active is a given. Therefore it is important to find activities that are also suitable for them. Instead of trying, in vain, to get your little ones to leave the water, why not join them for a family aqua aerobics class? Your children will also enjoy Mermaid School, water competitions and underwater fun activities.
Naturally, children do not want to miss out on the SUP craze, either, so they can also give that a go every afternoon. Visit our website to see all events for the 2023 summer season.
Click here to see the weekly breakdown of events »
Want more? We have some ideas
Even during the summer, you will get the occasional day when the weather is less pleasant and you cannot stay on the beach all day long. On slightly cooler days like that, it is good to have a plan B for active relaxation.
The best option is perhaps cycling, which offers more than just exercise, hire a bike from us and explore the neighbouring area, or use the Lake Balaton Cycle Path to visit nearby towns.
Try your hand at table tennis or organise a foosball tournament.
If you simply cannot give up on being by the water, have a dip in the hot-water experience pool without having to leave the campsite.