Holidays by Lake Balaton are no longer only about the water and the beach. There are also plenty of attractions and opportunities to enjoy sports around the lake. Thanks to the Lake Balaton Cycle Path, you can even ride around the 'Hungarian Sea', taking in a lot of sights and enjoying all the adventures on the way.
TOP TIP

Make sure to find and book suitable accommodation before you pack your bicycles for the holiday.
A ride to remember
The Lake Balaton Cycle Path spans 205 kilometres. This distance can easily be covered not just by seasoned cyclists but also families and friend groups looking to spend a few days together doing exercise in a fun way. It is important, however, to plan your itinerary, including the sights you want to see and where you will be staying. It will take between 2 and 4 days to cycle around the lake, depending on your fitness level. If you would like to set a comfortable pace, assume you will cover 50 to 60 km a day. Even a teenager can easily do that much in a day. Still, you know your body and stamina best, so make sure to book accommodation in a way that give you enough time to recover.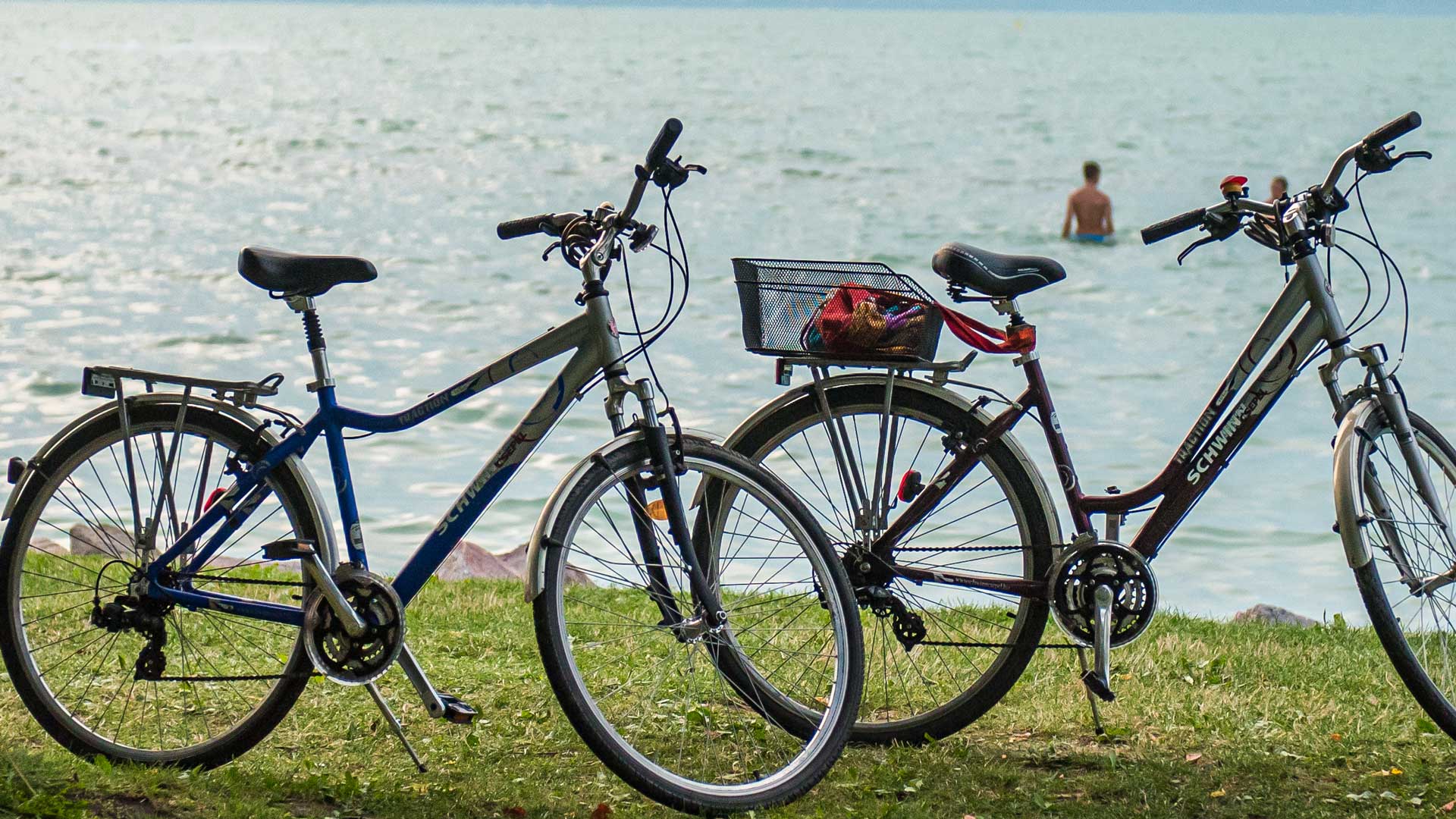 Mirabella Camping is the ideal accommodation for cyclists
If you have planned your route and you are going to visit Zamárdi, make sure you stay at Mirabella Camping, the best choice of accommodation for cyclists. We have enough room for families, friends and even large groups so all of you can stay at the same place. Our mobile houses can accommodate 4 adults and 2 children comfortably, and are also cheaper than a hotel room.
It is best to embark on a cycle tour in the spring, when the weather is not uncomfortably hot. Mirabella Camping therefore welcomes guests from April 21 until the end of September. You will not have to worry about cold nights because all our mobile houses have heating. What is more, they are equipped with everything you will need, so you will not have to lug a whole load of equipment with you to stay comfortable.
Our campsite is family friendly, so you are guaranteed a lovely stay even if you are travelling with young children. If this is the case, you should plan for shorter legs or day trips. But even young ones will love the cycling experience. The bottom line is that whether you are setting off on a long cycle ride or a short one, you will definitely enjoy winding down in our mobile houses at the end of the day.
TOP TIP

The campsite opens from April 21 to September 30, so if you are looking for bicycle-friendly accommodation to spend the spring and autumn with active relaxation, send us an inquiry.
Mirabella Camping is not just for cyclists
We also offer bicycle hire services to those who cannot or do not want to bring their own cycles. We have other sports facilities, too, and a fully refurbished playground for the children. There are also many options for refreshments and food at the campsite. Our restaurant and snack bars offer the best in food and drink for adults and children alike. Free Wi-Fi is also available across the campsite, which will come in handy when planning your itinerary. Mirabella Camping is the ideal accommodation for cyclists!
Top tips for cycling around Lake Balaton
Zamárdi – Siófok
The distance between Zamárdi and Siófok is around 10 km, which you can cover in an hour by bike. On this leg, there are numerous points of interest a bit further away from the beach, including Kőhegy Lookout Tower in Zamárdi. Or set off towards Balatonföldvár, and visit the  Museum of Naval History and Visitor Centre. This is a short trip and can easily be covered if you are riding with young children.
Click here for a map of the Southern Lake Balaton Cycle Path »
Zamárdi – Tab – Zamárdi
There is another route leaving Zamárdi, which spans 50 km and leads to Tab. On the way back, you can visit Kőröshegy Lookout Tower. This route is well worth a day trip and, because you do not have to backtrack, there will always be something new to see.
Click here for the details of this route »
Zamárdi – Szántód
Szántód lies 1,5 kms away from Mirabella Camping, and it takes about 10 minutes to get there by bike. Ferries connect Szántód with Tihany, which offers a wide selection of experiences, both cultural and culinary.
Specially recommended for families
The entire Lake Balaton Cycle Path is paved, so it is safe to travel even with little children. Some sections of the path lead through towns, so you will get a chance to see more than just the beach, and visit some local sights. As soon as you arrive back at the campsite, you can start enjoying the benefits offered by a cycle-friendly accommodation. Adults can relax in the mobile sauna, for example, with the added bonus of being able to splash in Lake Balaton right after. Younger guests will enjoy the experience pool, which is heated so that you can use it in the spring and autumn, when the water of Lake Balaton can be too cold to swim in.
Dust off your bikes, spring is coming! Head to Lake Balaton!