Active relaxation on the waves
It's little wonder that windsurfing and SUP have greatly increased in popularity over recent years. After all, these are some of the most fun summer activities you can engage in. Windsurfing and stand-up paddling are both excellent sports and are quite demanding physically. Practice will help you increase your fitness level while also having a great time. Taming the waves is also an excellent way to reduce stress when life gets just a little bit too much. Zamárdi is fortunate to be home to Windsurfcenter, where you can not only rent all the equipment you will need but also learn some tips and tricks from the best trainers, who make sure these fantastic activities are accessible to everyone.
The fun of windsurfing together
Windsurfcenter offers one-to-one tuition as well as group classes, right on site at Mirabella Camping. A class taken together with your friends and family can help make an unforgettable memory and provides a good deal of motivation to improve your skill.
Learning how to windsurf or ride a SUP board is great fun for the whole family, regardless of age. The trainers are also experts at teaching children, and this is a great activity for those who are on holiday with teenage children. It's not always easy to come up with an activity that your teenagers will want to join their parents for, but learning windsurfing together is something even they won't be able to say no to.
This water sport brings people together, and you can also meet new friends while you practise. As you learn more and get better, your confidence will also get a great boost.
Meet the Windsurfcenter team
If you are staying at Mirabella Camping, you can enjoy the beautiful local beach for more than just swimming. The passionate team of trainers of Zamárdi's local windsurfing school are at your disposal here, and you can also hire windsurfing equipment and SUP boards. The team of young, enthusiastic instructors usually arrives at Lake Balaton in mid-May, and they are on hand to help you tame the waves throughout the season. The training timetable and opening hours for the equipment rental service are subject to the weather, but you are pretty much guaranteed to see them on the beach a little while before the peak season starts. Windsurfcenter is based in Zamárdi, and the training and rental services are available right at Mirabella Camping. You can hire a SUP board or windsurfing equipment, or even enrol in the classes without having to leave the campsite.
Get a windsurfing licence on your holiday
You can obtain a licence to ride the waves over a single holiday. All you need to do is complete the 10-hour course provided by Windsurfcenter and learn the basics. If you successfully take the exam held at the end of the course, you will receive your international windsurfing licence, which opens up opportunities right across Europe, allowing you to hire equipment even for use on the sea.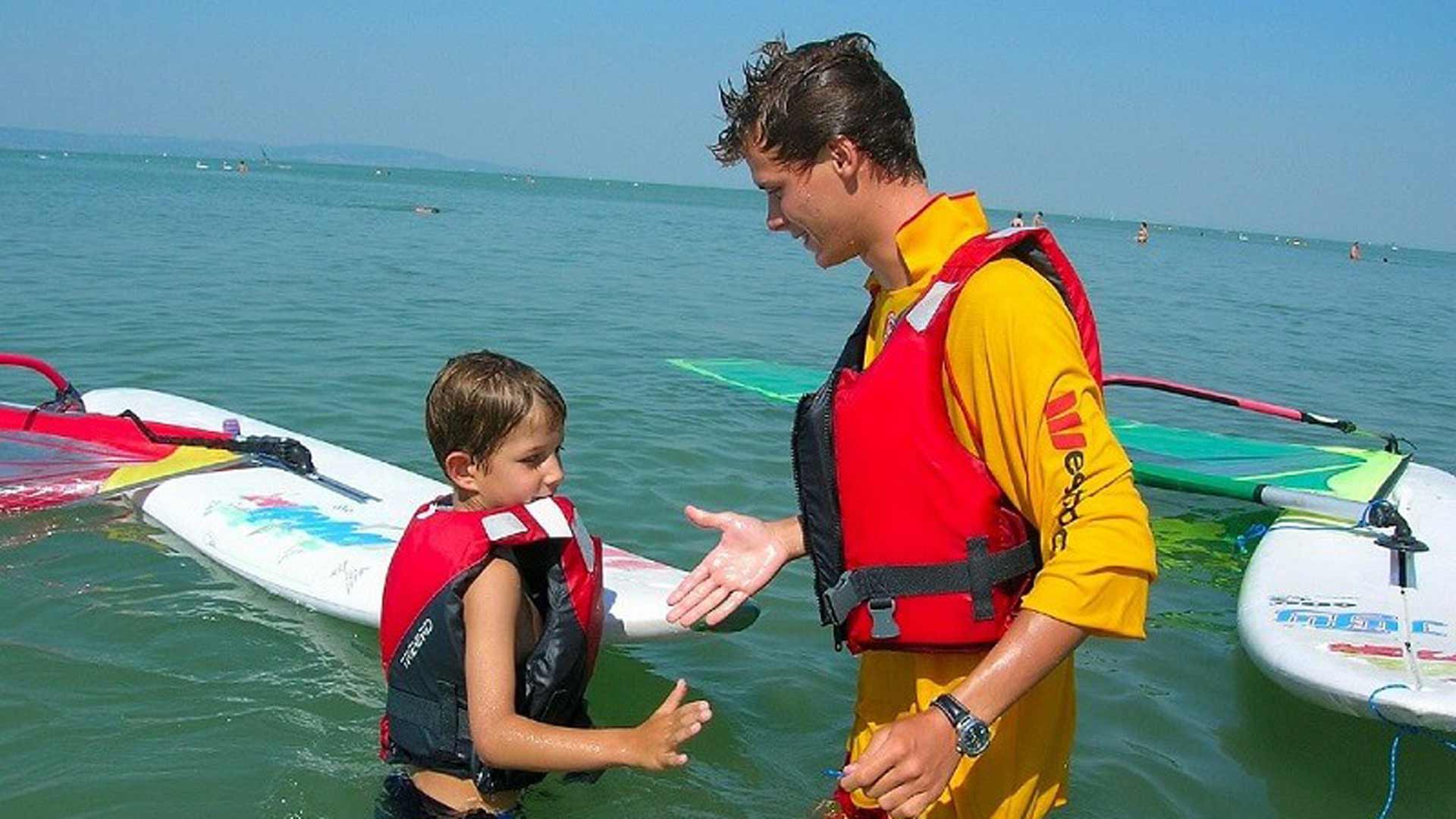 Windsurfing and SUP board rental and training at Mirabella Camping
Whether you are ready to tame the waves or just about to take your first steps on this journey, you should get a head start in mid-May so that by the summer comes all that's left for you to do is enjoy all the skills you've acquired. The off-season is ideal for windsurfing because you'll catch much better waves and there are no crowds to get in the way when you're practising. Windsurfing, and the most recent craze of SUP, have both proven themselves to be more than just a fad: they are a lifestyle. Once you stand on the board, you won't want to ever get off it. And once you've caught the windsurfing or SUP bug, the season will feel like it's gone in a blink. So consider booking several windsurfing breaks, whether short or long ones, from the spring right into the autumn.
Mirabella Camping has all the services you will need for a fantastic break and some active relaxation. If you like riding the waves, you won't even have to leave the campsite because you can practise right there, thanks to Windsurfcenter. Mirabella also has you covered when you want to take a break or grab something to eat: there are beautiful, shady trees, great snack bars and an excellent restaurant right on site.
It only takes a few minutes to can get a quote and book your accommodation online. Don't delay because places are snatched up quickly in the most popular periods. You can bay for your accommodation by debit or credit card. Reserve your place and get ready to ride the waves!