What do you expect of good accommodation in Zamárdi? Should it be comfortable and high-spec on the one hand, while also atmospheric and right in the heart of nature on the other? Well, if that's what you're looking for then you're in the right place, because that's exactly what Mirabella Camping offers. Come visit with your family or friends and you'll find a range of different types of accommodation, games and entertainment, loads of room and fresh air, sports and many adventures.
Why look for accommodation in Zamárdi?
Why visit Zamárdi? Because it is a very attractive destination not just compared to alternatives in Hungary but also by international standards. It hosts several festivals, such as Balaton Sound, and other events. The town has a 3 km long grassy section of the beach, overlooking the Tihany Peninsula. Zamárdi is a true gem of the southern shore, and a worthy home to the Heart of the Balaton statue that tourists so enjoy taking photos of.
A piece of advice when it comes to accommodation in Zamárdi
We all want to find the perfect accommodation, and ask ourselves the question: what would suit me or my family, event, friendship group or holiday the most? A lot of considerations need to be taken into account, so to make things easier for you, we've listed below what you can expect when visiting Mirabella Camping. We are sure you will not regret your decision to visit because the campsite stands out head and shoulders above other types of accommodation in Zamárdi.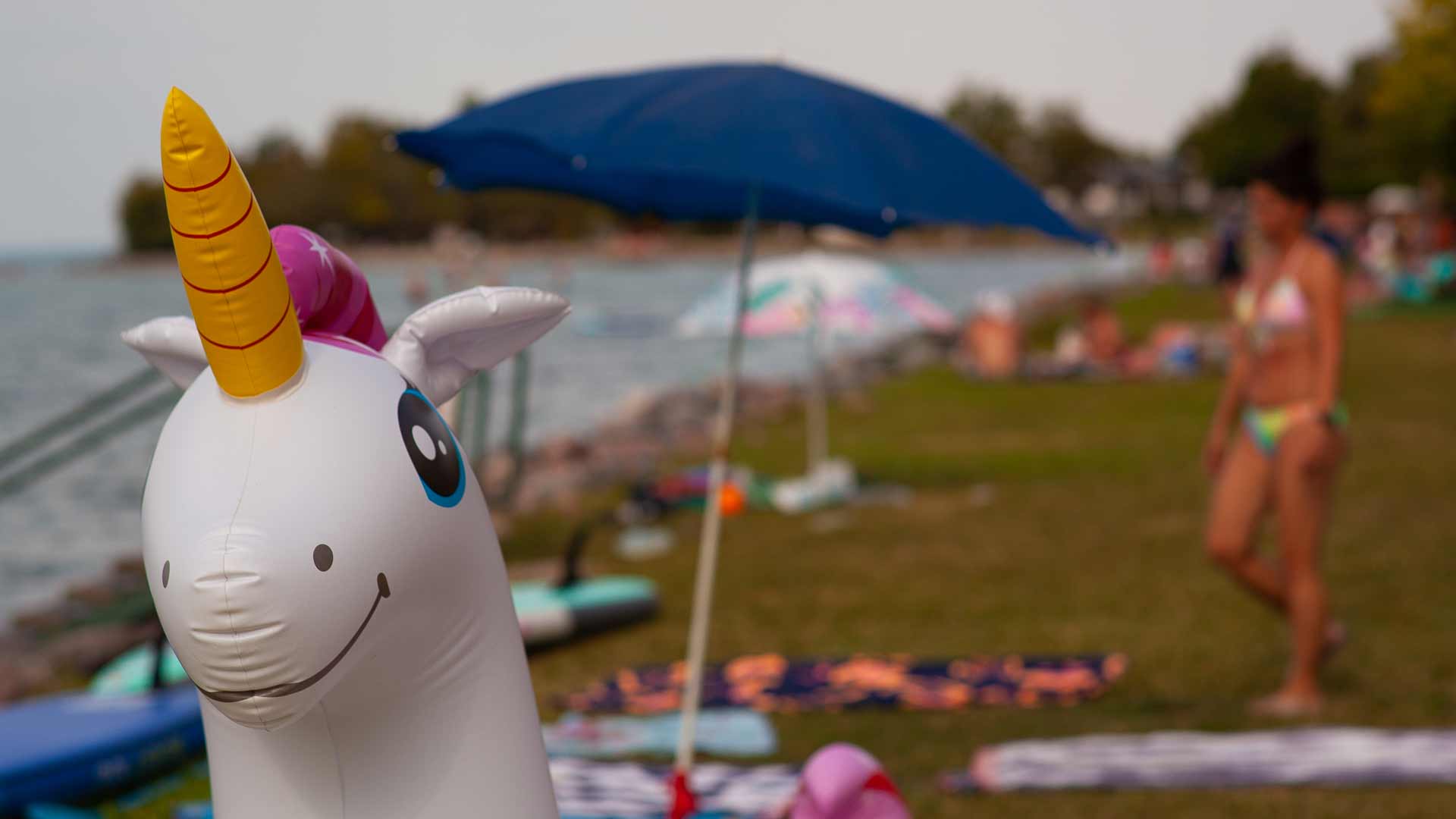 Premium campsite feeling: each type of accommodation available at the campsite is of the highest standard, but they still preserve that special campsite atmosphere that we all know and love.
Premium quality. Take whatever you think camping is and re-imagine it in the highest possible quality. Expect nothing but a clean, well-equipped campsite with well-kept grounds, high-spec equipment, animation every day during the peak season and quality food spread over hundreds of square metres.
There are not many providers of accommodation in Zamárdi that can offer everything you need for a holiday in one place. We have a grocery store, a sauna, sports facilities…
There are not many providers of accommodation in Zamárdi that have caravan plots and mobile houses right on the beach. Mirabella Camping has both, so you can have Lake Balaton right on your doorstep.
What types of accommodation are available at the campsite?
Tent pitches
Like every campsite, we have you covered when it comes to tent holidays. But we also guarantee well-kept and roomy pitches, thanks to our extensive and continuous grassy grounds with beautiful trees dotted all around. Of the accommodation types that we offer, tent pitches are the cheapest option. You can also making bookings online.
Caravan plots
These days, nearly anyone can rent a caravan. It is an amazing option because it allows you to create your own little comfort zone, sitting at your folding table surrounded by a hedge. You can even pitch a tent on your plot. You can also preserve your mobility: set off on a trip whenever you like and stop wherever you like. Mirabella Camping offers nothing but well-kept and comfortable plots. You can even book a premium plot. These are a new addition for 2022, created by merging two plots so that you have even more room to relax in. But that's not all! You can book a plot right by the lake, as well, and enjoy the picturesque views.
Mobile houses
If you are looking for the perfect accommodation in Zamárdi for your whole family, look no further than mobile houses. Our mobile houses offer comfort just like at home, high-spec equipment and modern furniture. These little cabins can be your home away from home as far as comfort is concerned: you will have the use of several rooms, a kitchen, a TV set, a fridge, a shower, a toilet and even a patio. You can use the patio to have long, pleasant chats, or just to relax with your family or friends.
Premium services
No two campsites are the same, so let us summarise briefly what exactly you can expect when you stay at Mirabella Camping. We offer free Wi-Fi across the premises. Mirabella Camping welcomes dogs, so your furry friends can go with you on holiday. You can even have your pet in a mobile house. The campsite offers massage services, a restaurant and two snack bars as well as a heated pool for our youngest guests.
Click here for a list of campsite services »
'Camping' and 'wild camping' are not the same thing. Some love staying in the wilderness, with all of its associated challenges, but most people in the 21st century would rather avoid unforeseen situations when enjoying a peaceful holiday. It can be an unpleasant surprise when your accommodation looks different from the pictures, the furniture is rickety, you have no internet access, TV reception is poor or the handle of a pot falls off. None of these things will ever happen at Mirabella Camping. We give a new meaning to camping in Zamárdi, one that truly deserves the 'premium' label.