Two snack bars and a restaurant on one campsite
Our shared childhood memories are full of stories about hospitality around Lake Balaton, some pleasant and others less so. Everyone remembers the era of rogue accommodation providers in the 1980s, and there are many memories from that time we'd all rather forget.
But despite all that, all of us have plenty of memories of fantastic flavours that are simply essential to any holiday around Lake Balaton. No visit to the beach is complete, for example, without corn on the cob, fried hake or lángos. These are memories everyone is glad to recall.
We at Mirabella Camping endeavour to offer the best in terms of food and drinks, and only serve the highest quality to our guests. The campsite has snack bars and a restaurant, offering a wide selection of dishes, from beach classics to hamburgers and to salads so that you can enjoy your holiday without ever having to wash up any dishes.
The best lángos around Lake Balaton, from Lángosellátó
Click here to visit Lángosellátó's Facebook page »
No holiday by Lake Balaton is complete without lángos. Lángosellátó has been a favourite among guests for a long time, and in 2020 it won the Lake Balaton's Best Lángos award, based on customer votes. What makes it so special? It has all the right ingredients, all the best quality. The classic lángos with soured cream and cheese attracts customers from miles around, but why not try other options like three-cheese, bacon, sausage or tzatziki?
The menu contains not just lángos but also all the classics that make a holiday by the 'Hungarian Sea' a truly unforgettable experience. This includes pancakes, hamburgers, hot-dogs, kebab and, of course, fried hake. There is everything you need to enjoy lángos together as a family!
Beyond lángos:  Spájz Bistro
Click here to visit the Spájz Bistro Facebook page »
The on-site Spájz Bistro is the restaurant of the campsite, where you can choose from a wide selection of the best dishes. Guests love the homemade flavors. Anyone who has lunch or dinner here will certainly not leave with a grumbling stomach, because Spájz Bistro is famous for its exciting summer dishes. Come to the bistro if you want to eat something light as eggplant cream homemade, like stuffed cabbage, fried fish from Balaton.
Breakfast
You will have a choice of breakfasts, which is a great relief for those who prefer to stay out of the kitchen during their holiday. Breakfast service is also available for groups, and you can even opt for half board or full board during your stay.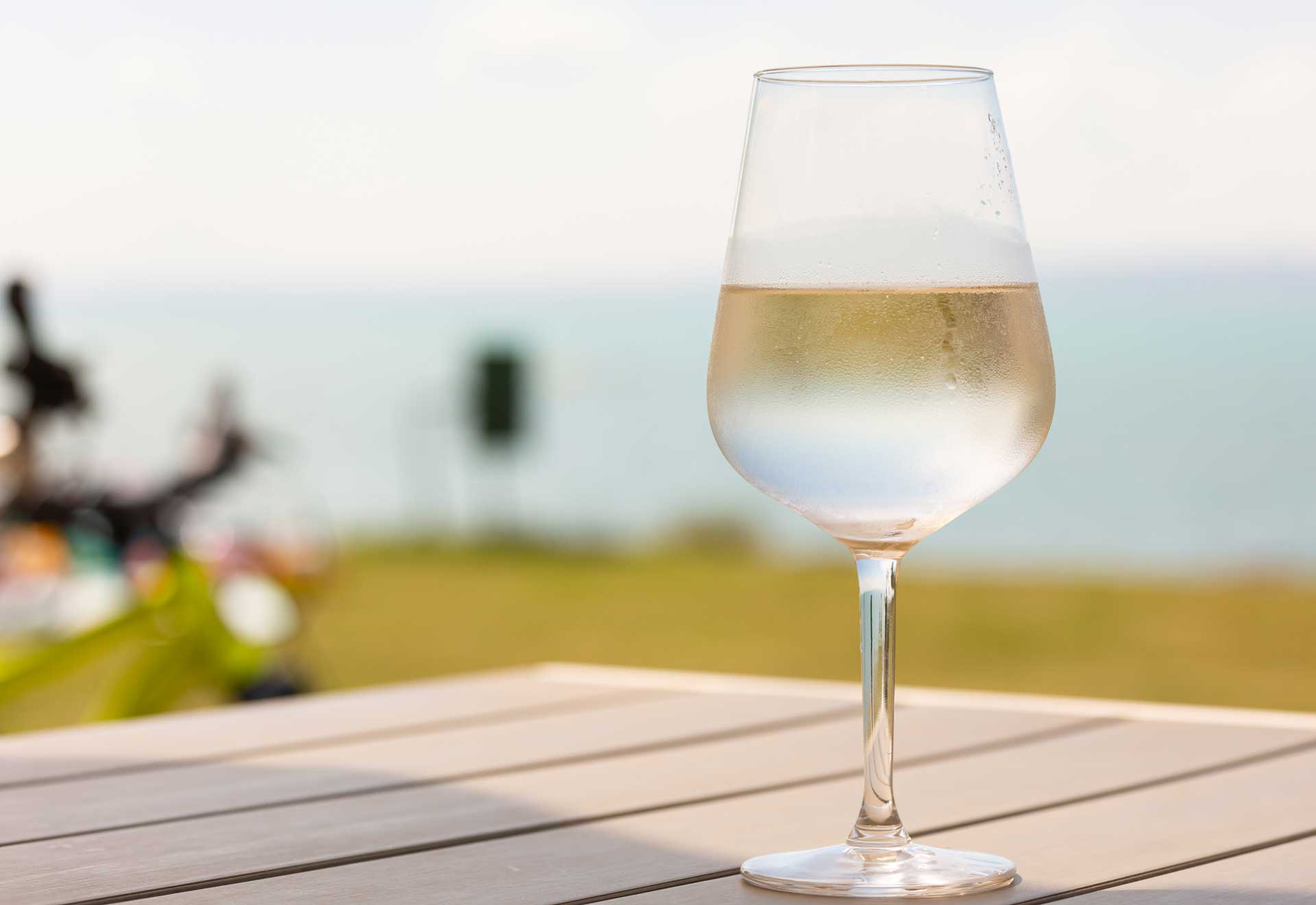 A cool wine spritzer to accompany lunch
Adults will enjoy a cool wine spritzer to accompany lunch. All the more so because a range of local wines is on offer, and vineyards by Lake Balaton produce high-quality wines that are refreshing and aromatic, the ideal choice for the summer.
The restaurant also has a large covered terrace, where you can find refuge to cool down with a lovely iced coffee. Or, when the weather turns a bit grey, come and spend some time enjoying the excellent food and drinks on offer.
For your convenience, debit card payments are also accepted.
Authentic Balaton snacks at Jégbüfé Zamárdi Rita & Tim
Click here to visit the Jégbüfé Facebook page »
Rita and Tim's snack bar has a fantastic atmosphere, and Tim is an excellent cook. His hamburgers are firm customer favourites, and the menu also has a selection of grilled dishes. This is true high-quality, trendy street food. Looking for something lighter? Not to worry: salads and sandwiches are also made to satisfy modern taste buds.
Draught beer to take away?!
We have not covered drinks yet. So how about beer? There is a range of draught beers on offer, including to take away! Want to carry a few pints over to your friends? Use the special carrier tool, and you can. If you are looking for a new, fun game, give beer pong a try here.
Cocktail selection
Cocktails always create a beach atmosphere. Many cocktails and long drinks are on offer. Excellent food and excellent drinks. Make sure not to miss out on this place!
G+G grocery
The G+G grocery got its name from the owners, Gábor and Gabi.
In the morning, they await you with freshly baked pastries and coffee.
The store has a huge selection of products. Almost everything you need for your vacation can be found here: gifts, toys, beach goods, chemicals, household goods, food (vegetables, fruit, dairy products, cold meats), sweets and chilled drinks.
Opening hours:
Monday-Saturday from 7:30 a.m. to 6:00 p.m.
Sunday from 7:30 a.m. to 6:00 p.m.
You can pay with credit card and € (euros), too.