Mirabella Camping is about to open!
The long-awaited moment has finally come! It's time to dig out your camping kit and head to Lake Balaton. Mirabella Camping of Zamárdi is opening with off-season prices on 21 April 2023, and will keep welcoming visitors for relaxing days by Lake Balaton right up to 30 September. You can make a booking for the dates of your choice at any time. You are guaranteed to receive a warm welcome, as are your four-legged friends.
Try the off-season experience
There are many people who can hardly wait to get out into the fresh air and start enjoying the lovely weather, the scent and colours of the spring, and to be re-energised by nature. Off-season holidays are perfect for them because the weather is great for hikes from around mid-April. Make the most of the pleasant spring weather, which is ideal for long walks, exploring and bike trips.
Camping in the off-season may also be just what you need if you're looking for a bit of peace and quiet. The campsite isn't nearly as busy at this time as it is over the summer, but most services and leisure activities are already available at full capacity. If you enjoy taking the time to drink in your surroundings, gaze pensively at the calm surface of the lake and have an overall relaxing holiday experience, the off-season will tick all your boxes.
Spring weather can occasionally surprise you with a refreshing shower, but the air isn't that cold any longer, so you will definitely not feel uncomfortably cold. Our campsite guarantees a relaxing holiday in one of our heated wooden cabins, or just roll up in your very own (or rented) caravan.
What's new in the 2023 season
The start of the 2023 season brings a whole lot of updates to the campsite. We've been working flat out for the past couple of months to give the campsite a makeover and complete various renovations. We've installed new steps on the beach, the rainwater ditch has been tidied up, the showers and toilets of sanitary blocks 2 and 3 have got new doors and windows, and aisles 2 and 14 have been completely redecorated.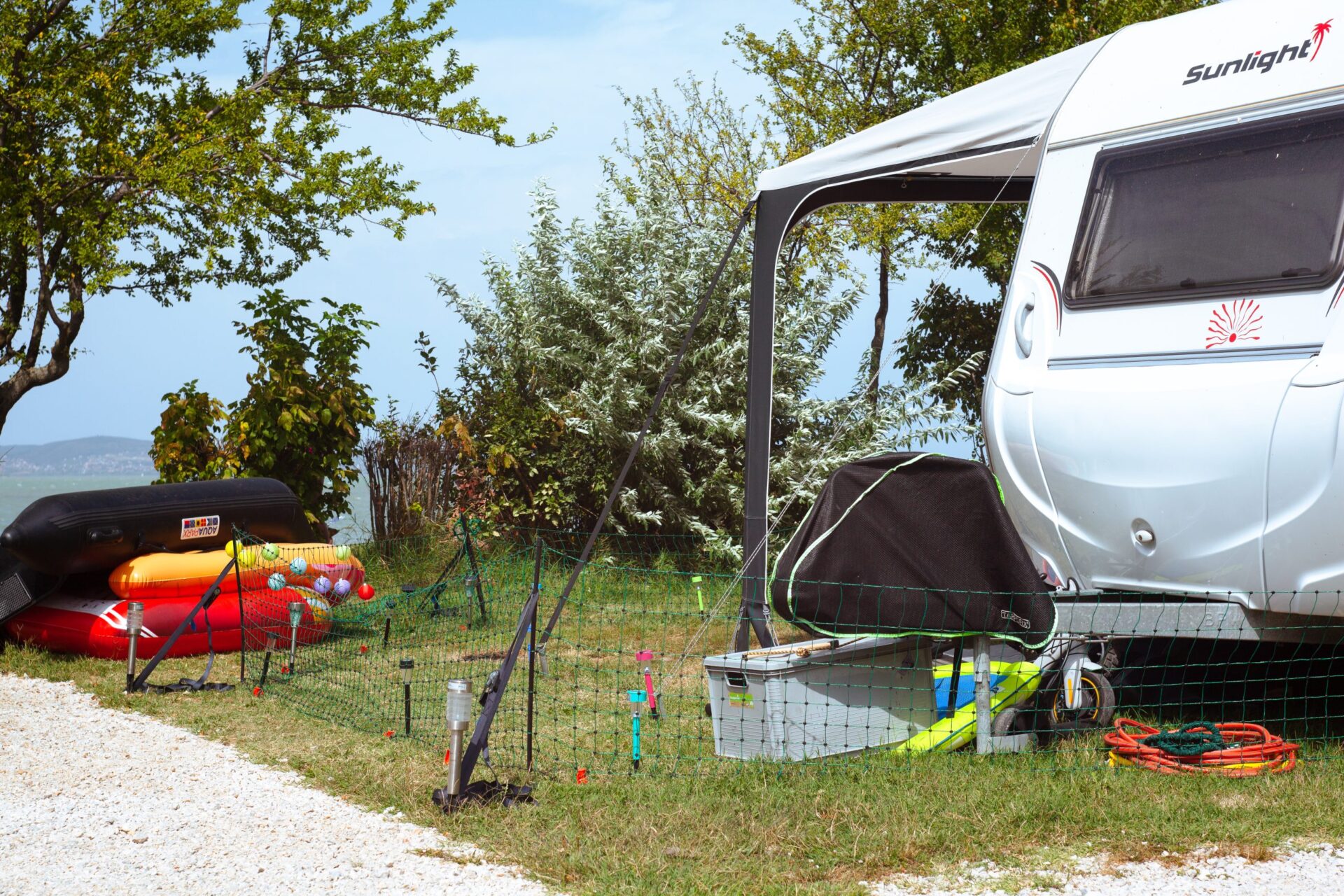 The 2023 season will also see the introduction of 5 new beachside plots at 100 square metres each. If you want to set up camp right by the water, don't hesitate to book your holiday right now and reserve one of these spacious beachside plots.
Have we got a surprise for you!
There is also a surprise hidden among all the new things we have prepared for you, but we can't tell you what it is just yet. It's been a dream of ours for a long time and now it's becoming a reality, and a unique novelty in all of Zamárdi to boot. Watch this page for updates, coming soon!
Camping and other adventures in Zamárdi
Zamárdi is a town of many faces. It is the musical capital of Lake Balaton, and hosts a series of medium-sized and large festivals over the summer that are up there with the best of Europe. It is home to the greatest parties of the year, including Balaton Sound, Strand Festival and ZamJam.  In addition, Zamárdi is surrounded by fantastic hiking destinations and it's the starting point for many cycle routes. It also hosts a range of sports event and cultural attractions. Whether you'd like to try a boat trip, go for a fantastic walk across town or enjoy the beach and being in the heart of nature, the town has something to offer.
Mirabella Camping brings together all that is good about the summer. The campsite has its own private beach, restaurant, great snack bars, an experience pool, massage services and plenty of options for active relaxation. If you feel like heading out, you can hire a bike or electric scooter, but there are also loads of sports facilities right at the campsite, including a football pitch, a volley ball court and table tennis. If you're looking for water-based adventures, make sure to check out the SUP and windsurfing training on offer. Whether you want to visit in the off-season or in the peak season, all you have to do is make a reservation for the accommodation type of your choice.
Calculate price and make a booking
Once you've sorted out your dates and know you want to head to Lake Balaton, you're only a few clicks away from starting your holiday. Calculating the price and making a booking online takes only a couple of minutes, and once you've paid the deposit, your accommodation is guaranteed for the selected period. You can use any major credit or debit card to pay.
Still in the planning stage? Ask for a personalised quote
If you haven't got the details of your trip nailed down yet or if you're only looking to learn more so you can plan the details in time, you can also make an inquiry. This option can also come in handy if you're on the market for a tailor-made offer for a large group of holiday-makers.