It's the perfect time of year to enjoy the fresh spring wind and the calm water before it gets crowded. Hop on a sailboat, a canoe, a kayak or a SUP and take to the waves near Balatonszemes, Fonyód or Zamárdi, for example.
Choose one of our heated mobile houses if you don't want to sleep on board 😀
Set sail on Lake Balaton
One of the most iconic images of Lake Balaton is all the sailboats rocking gently on the water. Going on a boat trip is one of the most memorable experiences our beloved 'Hungarian Sea' has to offer. If you're not in the mood for a boat trip, just take the ferry to cross Lake Balaton between Szántód and Tihany, but it's well worth trying the full sailboat experience, for instance in Zamárdi.
Mirabella Camping is situated right next to Zamárdi's sailboat harbour, where you can hire a vessel or just go for a boat trip. If you are looking for more, visit Nánási Sailing Sport Club in the harbour, who provide training in collaboration with Zamárdi Sailing and Water Rescue Association. Their many courses will equip you with all the theory and practical knowledge you need to set sail. A programme like that will make any holiday a truly unforgettable experience.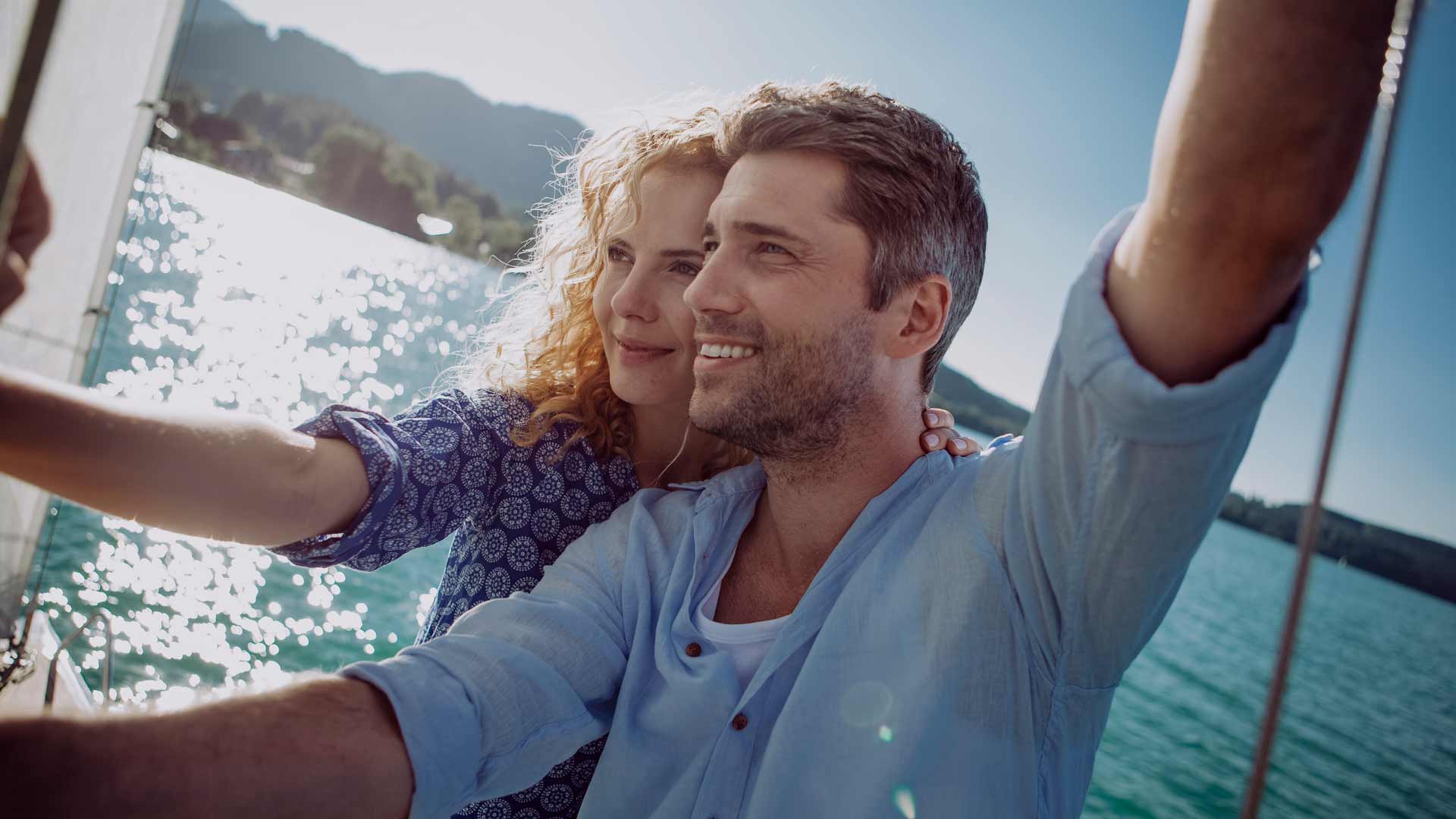 Kayaks, canoes and everything nice
Zamárdi has so much to offer lovers of water sports. You can hire a kayak, a canoe or any other equipment you need, and the town is also the starting point for the rowing competition across Lake Balaton in 2023 that will take place in the summer. Competitors can cover the 8-km distance between Zamárdi and Tihany in a variety of classes: kayak, canoe, SUP, dragon boat or rowboat. The distance is far from trivial, so preparing for it properly and completing it successfully will give you a real sense of achievement. If you decide to add this challenge to your to-do list for the year, there is still time to get some training in. Mirabella Camping opens on 21 April 2023, so you can get started on your practice in the spring, and be ready by July to row across Lake Balaton.
Water-based adventures at Mirabella Camping
Maybe you are already a fan of a water sport or you've been meaning to give windsurfing a go, or perhaps you're caught up in the SUP craze of recent years. Whatever the case may be, Mirabella Camping is the ideal accommodation for you. The campsite has its private beach access, where you can take to the waves undisturbed. There will be no crowds and if you visit in the off-season, you'll feel like you have Lake Balaton all to yourself when you climb on your board.
Mirabella Camping has SUP and windsurfing equipment for hire. Naturally, we haven't neglected the classics, either, and pedalos are also available and guaranteed to give children a memorable experience. Rowing on a SUP board is also a fun activity that children can try under the supervision of our expert instructors every afternoon. Visit the Mirabella Camping website for more information on these activities and our various services. They are available before the peak season starts, so you won't miss out on water-based adventures even if you're not quite ready to dive into the water in the spring.
If you want to make sure you don't miss out on the best adventures on the waves this year, you should book your accommodation at the campsite as early as possible. The off-season is a great time for water sport lovers to visit, not just for the pleasant spring winds and the quiet surroundings but also because you can save some money on accommodation at the campsite. Booking online takes only a couple of minutes, and you can use your debit or credit card to pay. If you are still in the planning phase, you can conveniently request a personalised quote online.
Windsurfcenter: Zamárdi's windsurfing school
You can hire a windsurfing board at Mirabella Camping, and if you'd like to hone your skills or perhaps experience the windsurfing lifestyle for the first time, you can also join Zamárdi's very own windsurfing school.
The campsite's expert instructors will help you start your learning journey with the right equipment for the current weather and wind conditions. It only takes a few hours to learn the basics, and the Windsurfcenter team will always be on hand to share their knowledge, enthusiasm and love for the sport, which will help ensure you're also having fun while learning. In the interest of safety, you will be issued with a lifejacket when hiring any piece of equipment, which is mandatory to wear. Feel free to let children give riding the waves a go, too: our instructors deliver scheduled activities, and will keep a close eye on even the youngest holiday-makers to ensure their safety.
If you'd like to take up windsurfing as a serious hobby or if you are planning to ride the waves of the sea in the future, you can obtain the prerequisite windsurfing licence in Zamárdi. On successfully completing the 10-hour training course at Windsurfcenter, you will be issued with a basic windsurfing licence, which is accepted across Europe. Taking the course is well worth your time because it will allow you to return home from a fantastic camping holiday with new skills under your belt and having acquired a licence to ride (the waves).