Medicinal water and thermal spas near Lake Balaton
Lovers of water sports may find colder and rainier days disappointing. While there are some underwater thermal springs in Lake Balaton, which led to the belief in the 1800s that the waters of the lake are medicinal, unfortunately, the water is still cold on rainy days. This is especially true when the unfavourable weather persists for days on the one week of the year you were looking forward to the most.
Children may be disappointed
Adults are better at finding other entertainment, children, however, won't be too happy to skip the fun in the water. And they don't have to. Fortunately, there are a number of thermal spas and indoor water parks in the Balaton region, so you can get in the water even in wet weather without getting soaked.
In this article we list the best places, which are easy to get to from Zamárdi, since we would like to provide ideas for water-based activities to the holidaymakers at Mirabella Camping for those days when bathing in Lake Balaton is out of the question.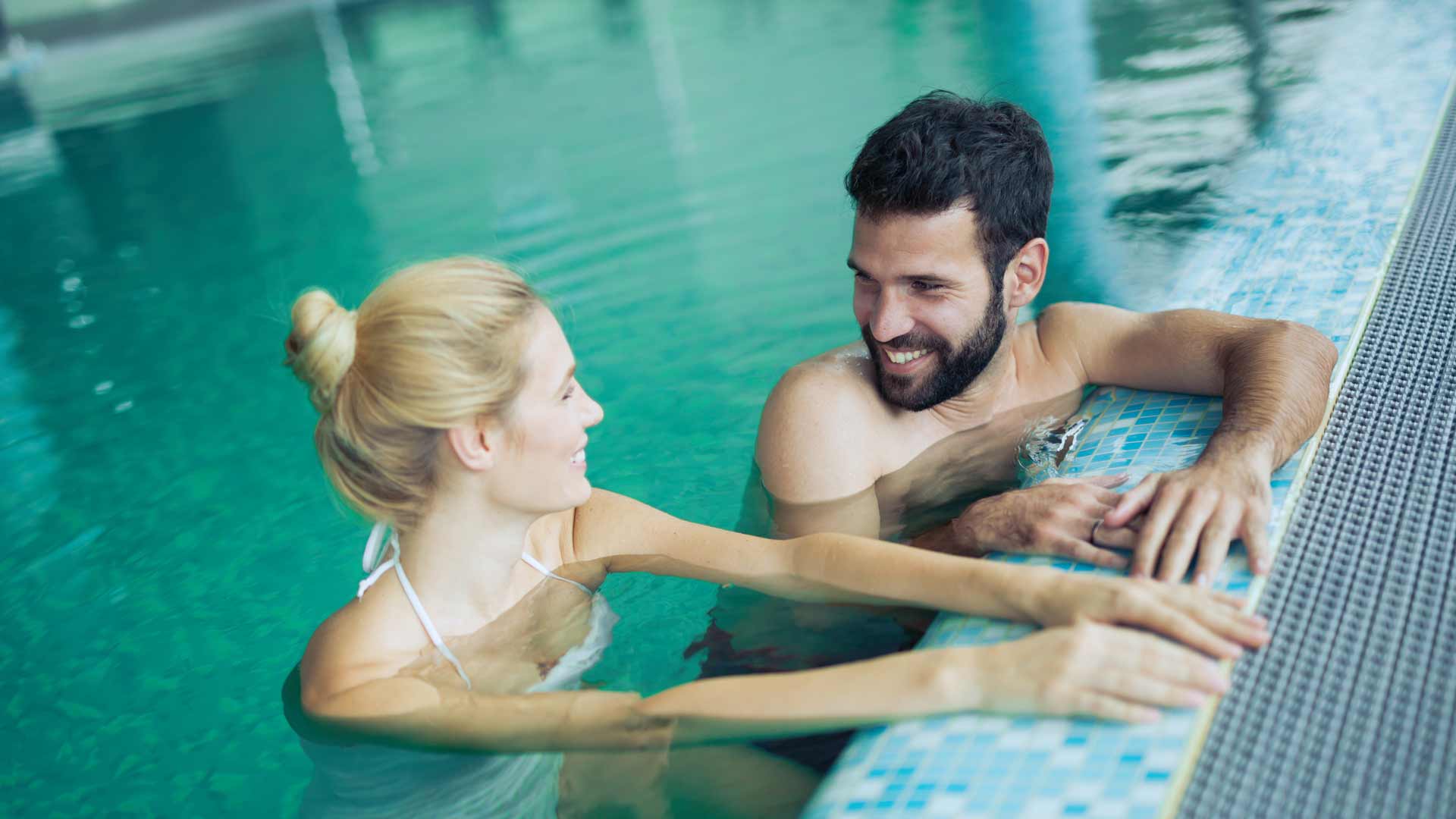 Thermal spas are open in bad weather
Galerius Adventure Swimming Pool – Siófok
The nearest indoor swimming facilities to Zamárdi can be found in Siófok.  Galerius Adventure Swimming Pool has 6 pools, including children's pools, chutes, jacuzzi and a thermal pool with thermal water from Nagyberény. This is an ideal destination for families with children, as they have shallow pools and a play hut where little ones can play with educational and creative toys.
Bebo Aquapark – Siófok
Bebo Aquapark offers extreme adventures and endless fun. There are inflatables, slides, trampolines, jumping and climbing areas in a 600 square metre area on the surface of Lake Balaton. This is Hungary's largest Wibit water park, where there is something to guarantee fun for every age group.
If you want to something really great – Annagora Aquapark -Balatonfüred
The Aquapark offers all day adventures with 12 chutes and Hungary's 2nd largest wave pool. There are indoor and outdoor pools, as well as chutes, from paddling pools to kids' pools and gradually deepening pools. All pools are heated, so you can enjoy a dip in pleasant 28-30 °C water in any weather.
Nagyberény will soon re-open to those looking to take its healing waters
Many are aware of the healing properties of  Nagyberény spring water. Many spas and hotels use the 40°C thermal water to fill their pools but now you will be able to enjoy the water where it comes from where a high standard thermal spa is being built at the site of the old Oázis Guest House. The spa will be called Goldenlife Apartments and Health Centre. The waters are beneficial for gynaecological and rheumatic conditions.
Igal Thermal Spa – relaxing rural environment with modern services
The Igal Thermal Spa is a little further from Zamárdi, 50 kilometres away. The spa is celebrating its 60th anniversary this year. This makes it the longest operating spa if the Southern Trans-Danubian region. However, its infrastructure is modern and a lido also operates besides the spa. Whether you want to heal your ailments or have some fun, the Igal Thermal Spa will have something to offer, healing thermal pools, chutes and sauna. The spa is open all year around and the outdoor pools open in May and the entry fees are vary favourable.
Tamási Thermal Spa
Tamási healing water contains valuable minerals. Its composition is effective in the treatment of locomotor and gynecological diseases, as well as sports and other muscle injuries, and in the treatment of chronic skin diseases and some forms of vasoconstriction. Tamási Thermal Spa is not only popular for its healing waters, it also has a lido and it provides wellness services. The visitors enjoy a relaxing environment in this Tolna County village.
All healing waters are thermal waters but not all thermal waters are healing waters
Some don't realise the difference between thermal water and healing water. Here are some clues: thermal water or hot water is water from under the ground with a temperature of over 30 °C. Generally, it contains a minimum of 1000mg diluted solid minerals per litre. Healing waters are thermal waters that contain minerals proven to have therapeutic effect. The chemical, physical and biological properties of healing waters are used in conjunction to treat ailments.
If you don't want to leave the campsite
We are also prepared for bad weather. We provide therapeutic and relaxing massage services and mobile saunas at the campsite.
You can check the times of the sauna sessions here »