Animacik – Children's activities at Mirabella Camping
If you've ever brought your children along on a holiday in Zamárdi at Mirabella Camping, they will surely have made some lasting memories at children's activities organised by Animacik. The activities they delivered over recent years have made them favourites with many grown-ups as well as with the children. The Animacik disco is an absolute staple for our youngest returning guests, who would not miss it for the world. The animators have an excellent understanding of children, and are able to establish a rapport with them quickly and easily. This is why even the shiest children will happily participate in their activities.
The key to their popularity is the personalities of the animators
When children really love something, they cannot have enough of it. Animacik's children's activities are perfect examples of this rule. Our youngest guests can't wait to throw themselves into the fun and varied party atmosphere the animators bring to the beach of Lake Balaton each year. The animators have a knack for talking to and involving all the children, creating a friendly and carefree atmosphere. All of them know at least one foreign language, so even guests from abroad can easily join the activities. The commitment and energy of the animators also plays an important role in making Animacik such a huge success. The team are young, enthusiastic and creative, and keep innovating.
Perfect children's activities for a family holiday
A good family holiday has to be filled to the brim with new experiences. A great camping trip involves getting out and about, and going on a hike around Zamárdi to explore the neighbouring area. Oftentimes, though, a long outing will tire out the parents but the children will still be full of energy. In situations like that, it can be a godsend that Animacik's children's activities take place right here at the campsite. Parents can even take a nap while the enthusiastic animators entertain and play with the children who want to join in. Animation is not a substitute for childcare, but older children can participate in the activities without parental supervision.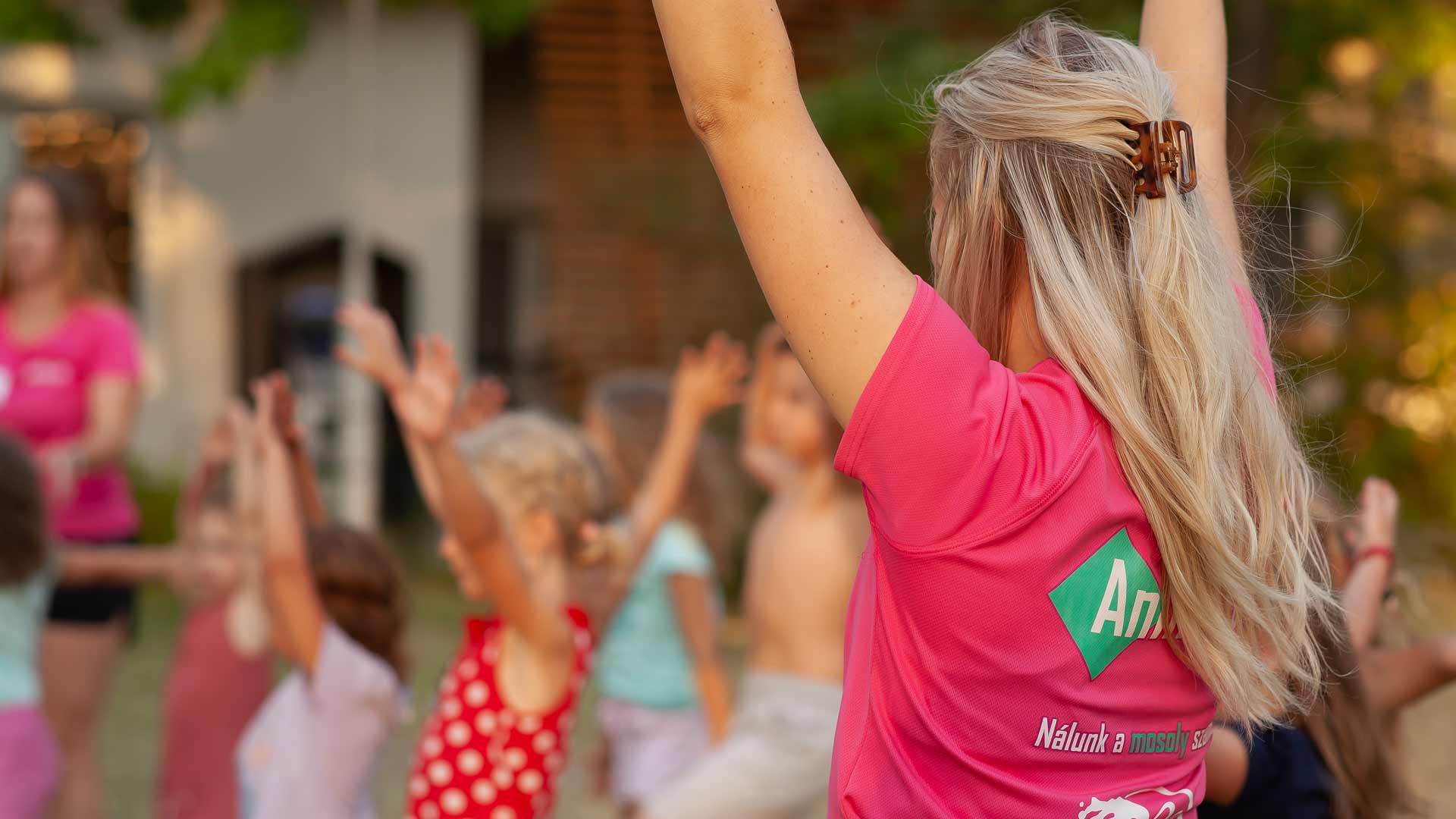 All you need to know about Animacik activities
Where and when can I find them?
The Animacik team are true professionals when it comes to organising children's activities. The events take place at different times of day, with a morning session between 10 am and 1 pm and an evening slot between 5 pm and 9 pm. Whatever you have planned for the day, you can always join in the activities along with your children. This is a great benefit because each family has its own daily rhythm. Thanks to Animacik, you are guaranteed to find entertainment that suits your children's interests whenever you happen to be free while staying at the campsite.
Types of activities
It is no accident that the Animacik team has developed a regular fan base among our youngest holiday-makers. The activities they offer are diverse and varied. They include crafts, playful relay races, water-based team games and competitions, children's discos and various quizzes, a fun talent show, as well as mermaid school and exciting water-based adventures.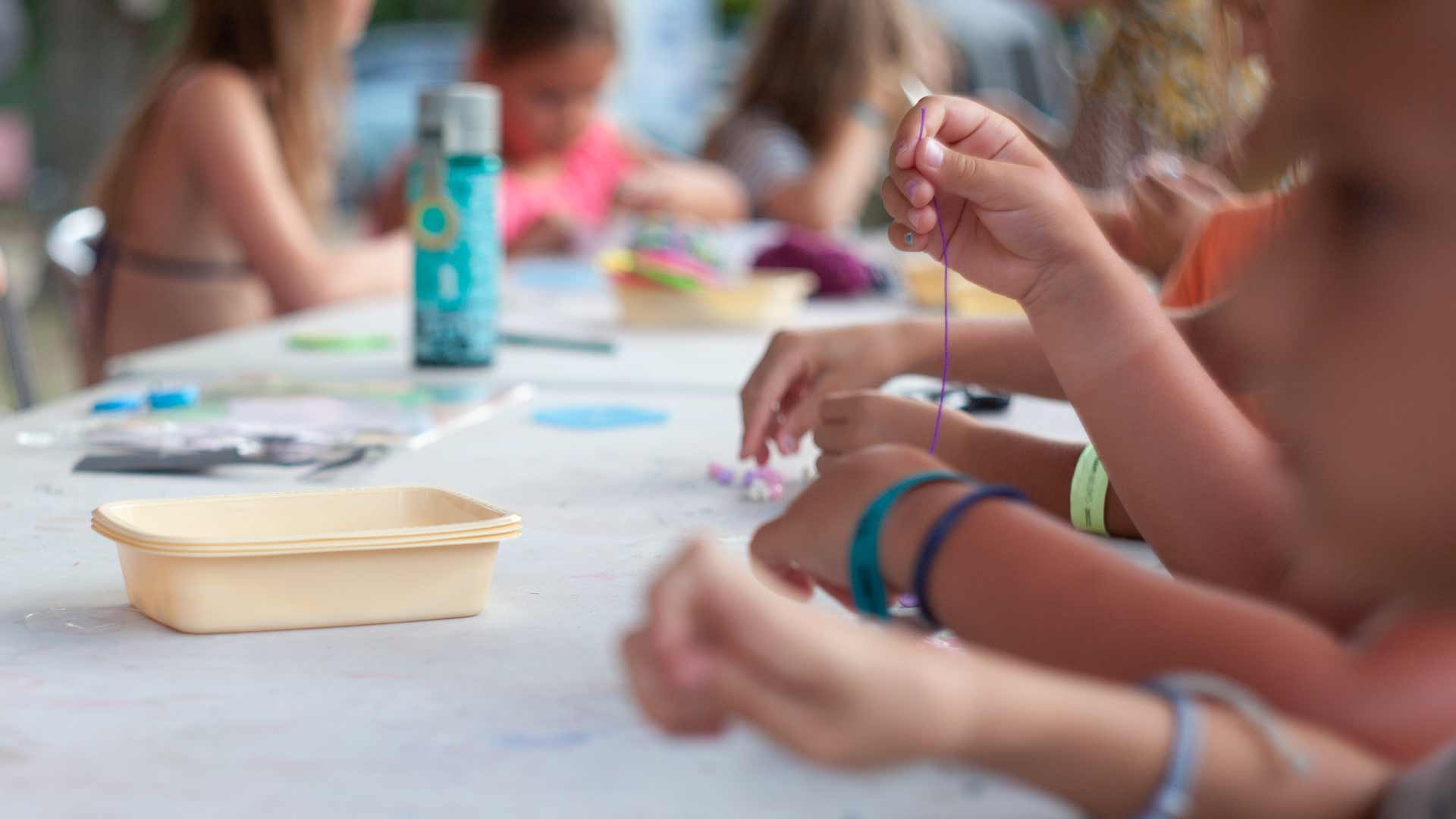 Crafts
The craft sessions allow each child to create real wonders according to their age and abilities. They can even keep the treasures made in these creative sessions. Children are always proud of the novel little things they make, and the pride of creation is enhanced by the great atmosphere that characterises the sessions. Friendship bracelets are always a favourite among girls, but there are also many other interesting materials and tools to try during the creative sessions. The Animacik animators love to share their kindness and enthusiasm as they guide young children through the varied children's activities. Your little artists will remember the holiday for a long time whenever they see their artwork.
Active pleasure and sports
Physical activity on land
The Animacik crew also offers many sports programs, and children love physical activity. There are morning workouts, free yoga sessions, aerobics and Zumba classes, which adults are also welcome to join. In addition, the little ones can take part in sports competitions and relay races, or try their hand at number wars, a Hungarian classic, or enter a table tennis championship.
Games in the water
Of course, no holiday would be complete without some water-based adventures, and the Animacik team has you covered on that front, as well. They organise a water tournament in Lake Balaton, and there are other very popular skill-based water games, such as target throwing or a ball war similar to dodge ball, while little girls' simply love mermaid school.
How to join the Animacik activities?
You can join children's activities organised by Animacik at Mirabella Camping on any day of your stay. All you have to do is book your accommodation at the campsite, which you can do online, quickly and easily. Take your pick from our selection of mobile houses, caravan plots and tent pitches. You can pay for the accommodation using your debit or credit card. Remember, if you are travelling with children, no summer holiday would be complete without joining an Animacik activity!