The season start brings plenty of options
Mirabella Camping is opening on 21 April, and thus the off-season officially starts. This is an excellent time for a break and a much-needed opportunity to get out and about. At last, you have a bit more freedom in how you spend your downtime, whether you are joined by friends, four-legged companions and other loved ones. Weekends are great for an early taste of the summer holiday, but you can also skip work for a couple of days during the week for an unparalleled, relaxing experience. Springtime is the season to enjoy life, have great food and drinks, go for hikes, lounge about in the sun and rest and recuperate in the fresh air.
Camping holidays in the prettiest place near Lake Balaton
If you want to take a break during the off-season, consider heading to Zamárdi. The town lies along a beautiful section of the beach, many think it is the most beautiful you'll find anywhere around Lake Balaton. One of the specialities of Mirabella Camping is its private beach, which allows you to stay right by the waterside during the spring season. You can also avoid the usual crowds at this time of year, and enjoy the endless calm of Lake Balaton like you own the lake. You don't even have to leave the campsite to enjoy spectacular views of Tihany Peninsula just across the lake, which are unmatched anywhere else on the southern shore.
Tihany is just a stone's throw away
If you bring a pair of binoculars to your camping holiday, you'll be able to just sit on the campsite's private beach and peek across the lake to the opposite side. Explore all the details and marvel at the beauty of Tihany Peninsula from the southern shore.
Szántód ferry port is right next door from Zamárdi, but actually you don't even have to leave the town if you feel like popping over to Tihany for a nice cup of coffee because Szántód and Zamárdi used to be the same settlement. Although they are not administratively separate, they form a single built-up area. You can cross over to the northern shore on the frequent ferry service between Szántód and Tihany, which is an excellent start for a day trip filled with a variety of experiences.
Passage to Tihany
After enjoying a hearty breakfast at the campsite, head over to Szántód and hop onto the ferry to enjoy what is essentially a boat trip across Lake Balaton. Once you arrive in Tihany, the peninsula is yours to conquer. Take a walk across the atmospheric village and marvel at the wine cellars, artisan products and the scent of Tihany's lavender fields. The highlight of the trip could be a visit to Tihany Abbey, but make sure you try one of the excellent patisseries, too. When you get tired, head back to the ferry port and once you're back in Zamárdi you can take a rest at Mirabella Camping while still enjoying the beautiful views of Tihany.
Unparalleled views of the lake, mountains and flowers
One of the best things about Zamárdi is its excellent location, which offers one of the most beautiful vistas anywhere around Lake Balaton. If you are staying at Mirabella Camping, don't miss out on visiting Kőhegy Lookout, which is just a stone's throw away and a great place to take a few unforgettable photos with your loved ones. From the top of the mountain, you can see as far as Siófok to the right, with the spectacular Tihany Peninsula just opposite and Badacsony Mountain in the distance. To your left lie Szántód and Kőröshegy.
Kőröshegy happens to be one of the largest flower gardens of Hungary, and an excellent destination for a quick trip because the mountainside is absolutely covered in blossoms in April and early summer. Visitors to Kőröshegy can enjoy the tulip harvest in the spring or the lavender fields in the early summer.
Day trips and campsite adventures
If you've already found your trusty companions, all that's left to do is set off on adventures together. There are a lot of attractive destinations nearby for short or longer trips. You can reach them on foot, hop in the saddle of a bike or take an electric scooter. You can hire your vehicle of choice at Mirabella Camping even in the off-season, so there's no reason not to enjoy a fun trip on two wheels. When you return, the campsite awaits with the opportunity to do some outdoor cooking, have long chats with your friends, do sports or enjoy any of the numerous convenience services.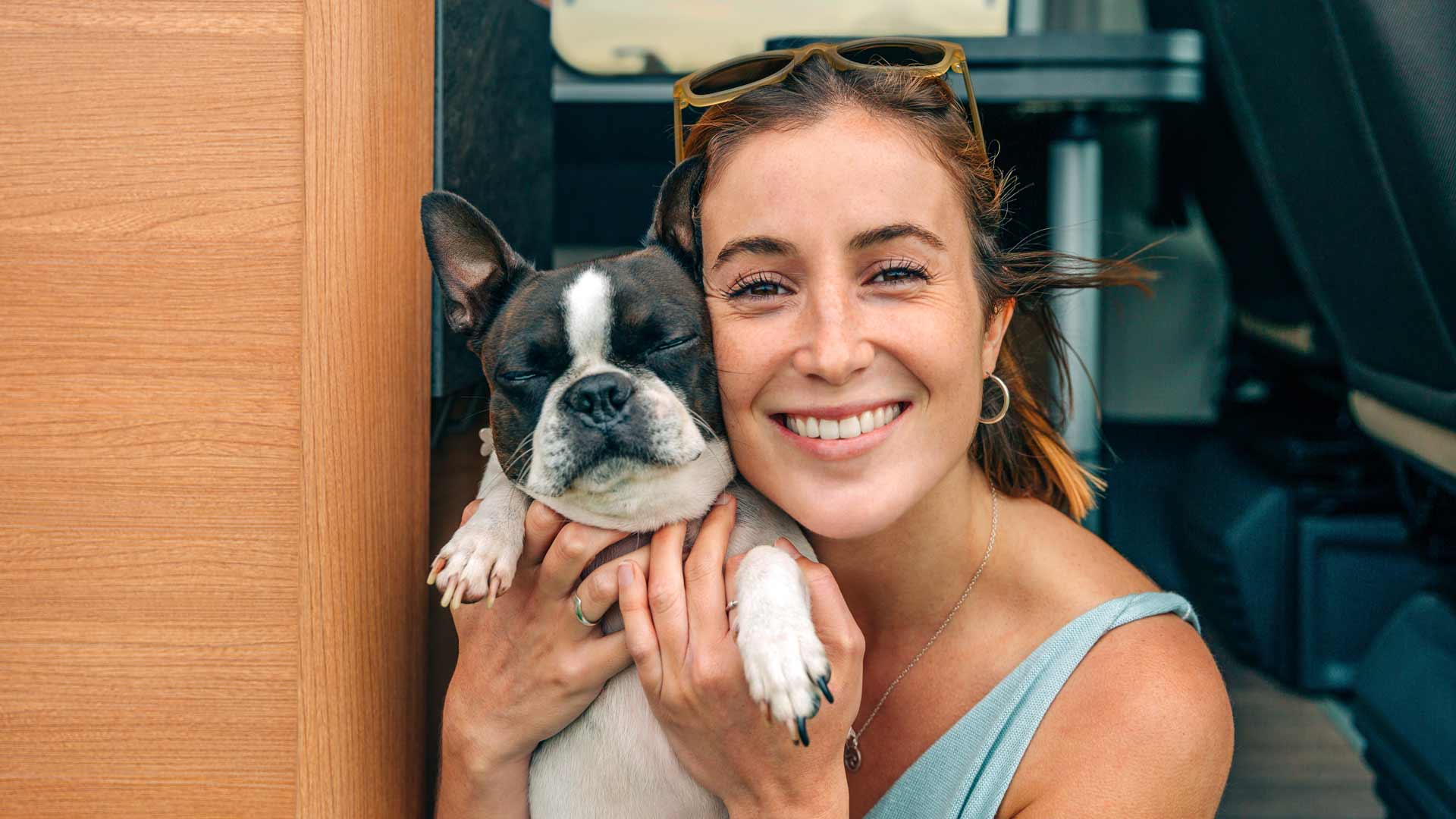 A dog-friendly campsite
Your four-legged companions can also join you on a short spring break because Mirabella Camping offers pet-friendly accommodation. You won't even have to leave your dog behind when you're heading to the beach because they are very welcome at the campsite. You can bring pets with you whether you are staying in a tent, caravan or mobile house. You can even bring more than one dogs with you into any type of accommodation throughout the camping season. Click HERE to read all there is to know about enjoying a holiday with your dog.
Calculate price and make a booking
If you feel like a spring break, it may just be time for you to escape the 9-to-5 and make the most of the opportunities that the off-season offers. The weather is perfect for hikes, and you can even bag a discount at Mirabella Camping over this period, compared to visiting during the peak season. You make an online booking at any time, quickly and conveniently, and you can use your debit or credit card to pay.