Zamárdi: Where experiences start
Summer has finally arrived, and signals the start of many new experiences over the most carefree period of the year. The shores of Lake Balaton are full of life as the sun, the water and the countless exciting activities attract droves of holiday-makers. Zamárdi is the perfect destination for those looking for active relaxation because the surrounding area offers a wealth of attractions, excellent day-trip destinations and a range of sports facilities.
If you are looking for a great holiday on the southern shore, Mirabella Camping is the ideal place for you to stay. Day after day, you will find fun activities to help you forget about the daily grind, relax and enjoy new experiences. You can hire a bike or electric scooter, learn to windsurf or conquer the waves on a SUP board, enjoy a boat trip or make use of any of a range of local sports facilities. If you're looking to get out of your comfort zone, there's no better place to do so than Zamárdi and the Zamárdi Adventure Park, which offers a concentrated dose of new experiences in a single hit.
Zamárdi Adventure Park – Everyone is an adventurer
Those who are open to unusual experiences have hit the jackpot with Zamárdi Adventure Park: it offers extreme challenges as well as exciting new experiences, from playful activities to genuine adrenaline hits. In short, it has everything you could possibly need for an unforgettable summer day. At Zamárdi Adventure Park, everyone can be an adventurer because the varied facilities guarantee fun, a sense of achievement and great new experiences to children and adults alike.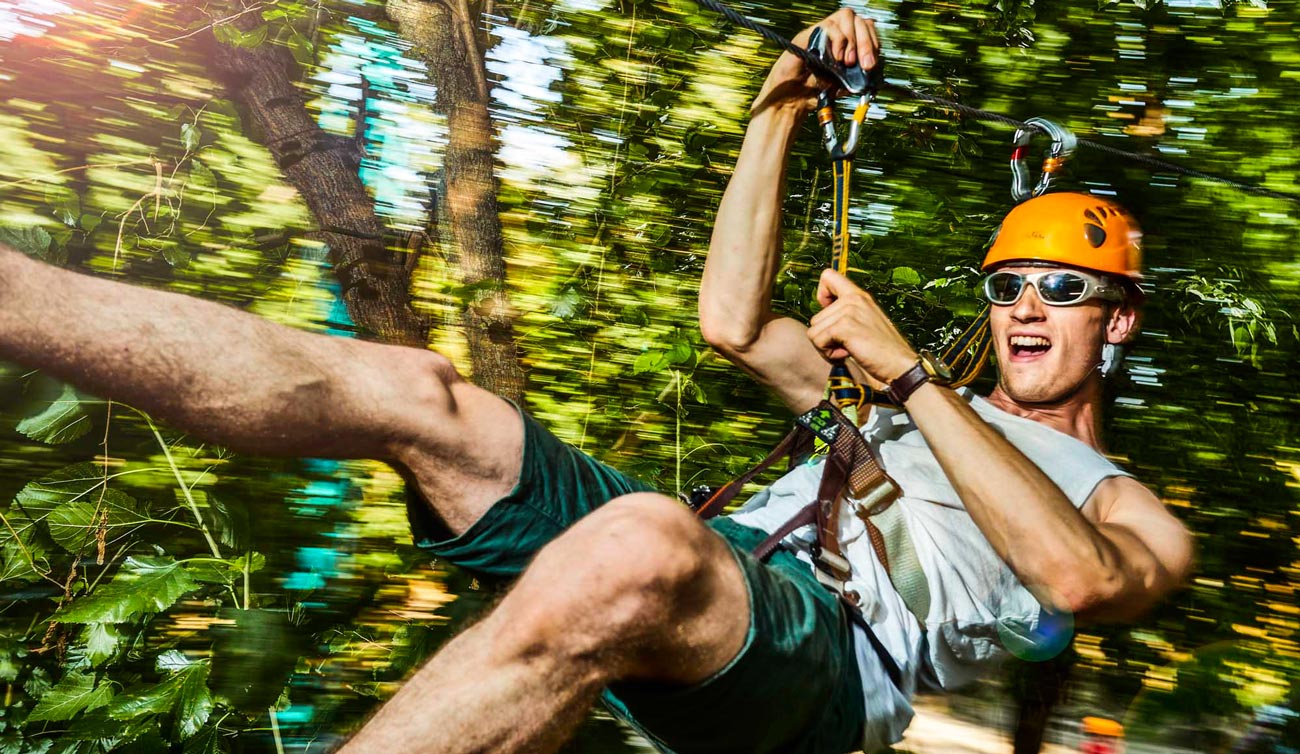 Location and attractions
Zamárdi Adventure Park is a fantastic venue. It covers nearly 35,000 square metres, and its fantastic, green grounds have plenty of trees. It is easy to reach by car because it is only a hundred metres off the motorway and from Zamárdi-Felső railway station. It's a 7-minute drive from Mirabella Camping, but you can also cycle there easily, in about 20 minutes.
Adventure trails and slides
Zamárdi Adventure Park has a range of adventure trails of varying difficulties, each with its own set of obstacles for you to overcome. Climb through, up and down ropes, rope bridges and other objects, and experience both a challenge and a sense of achievement as you conquer the challenges. There are 18 different adventure trails for you to choose from, so both children and adults will find the challenge to suit them.  There are also many slides for you to enjoy, each one marked as suitable for children, teens or adults, based on height. The trails are also ideal for team building, and special custom trails are available for group bookings.
Water-based activities
Even an extreme adventure park like this would not be complete without some water-based adventures to enjoy in the summer. Naturally, this is not your run-of-the-mill beachside fun but a range of water-based tracks where speed, balance and athleticism take the front seat. The park also offers water-based activities suitable for children, including a treasure hunt.
The water-based activities available at Zamárdi Adventure Park include:
Floating bumper cars
Water balls
Water loop
Treasure panning
Experiences on land
Once you're done with the water, experience a surge of adrenaline leaping off the diving tower or enter the land of fables and find your way out of the exciting maze or enjoy a ride on the experience steam train.
Important to note
Zamárdi Adventure Park is the ideal destination for groups of friends, families, school trips, team-building exercises, and a great venue to celebrate a birthday or other event. Opening hours are subject to weather conditions, so please make an advance booking to avoid disappointment.
A visit to the park will add some unforgettable experiences to your holiday by Lake Balaton, so if you enjoy activities that are out of the ordinary, do make sure to schedule a trip there. And if you want to complement that with great accommodation in Zamárdi that offers a range of options for active relaxation at your fingertips, then Mirabella Camping is definitely the ideal choice for you.
Book your accommodation at the campsite
You can enjoy the perfect holiday by staying at Mirabella Camping in a tent, a caravan or a mobile house. You can book your accommodation easily online. It takes just a few clicks to get a quote and finalise your reservation by paying the deposit using your debit or credit card. Mirabella Camping also welcomes four-legged holiday-makers. If you're feeling ready to enjoy some new experiences, don't hesitate to make an online booking!