A simple holiday or the greatest adventure of your life?
A motorhome or caravan getaway is both an adventure and a holiday at the same time. In fact, it goes well beyond what a traditional holiday can offer. In order to truly relax, it is essential to get out of the usual routines, to leave your comfort zone. For many of us, this might feel unnerving, since most people want to make sure their holiday is a comfortable one so as to make the most of the relaxation they can get on those precious few days.
The beauty of a motorhome or caravan holiday is that gives you the experience of a special adventure while also allowing you to keep the most important bits of home comforts with you at the same time. If you want to break out of your usual routine, if you are bored of the atmosphere of expensive and impersonal hotels, then a caravan holiday is just for you. At Mirabella Camping, you will have the opportunity to camp directly on the beach, as you can also choose a beachside plot with great views of Lake Balaton and the beautiful Tihany Peninsula.
Mirabella Camping is an excellent destination for more reasons than just the beauty of its location. It will not disappoint adventure lovers, either, as Zamárdi is a treasure trove of interesting hiking destinations and other interesting attractions.
Your own caravan or a rental, or even a motorhome
Seasoned campers probably know already that this superb opportunity is easily accessible to anyone, as you don't have to maintain your own vehicle for a motorhome or caravan holiday. You can simply rent one that suits your needs and start your adventure straight away. Even preparing for such a holiday feels entirely different from a regular trip, since you will have a real chance to create a home away from home while staying at the campsite.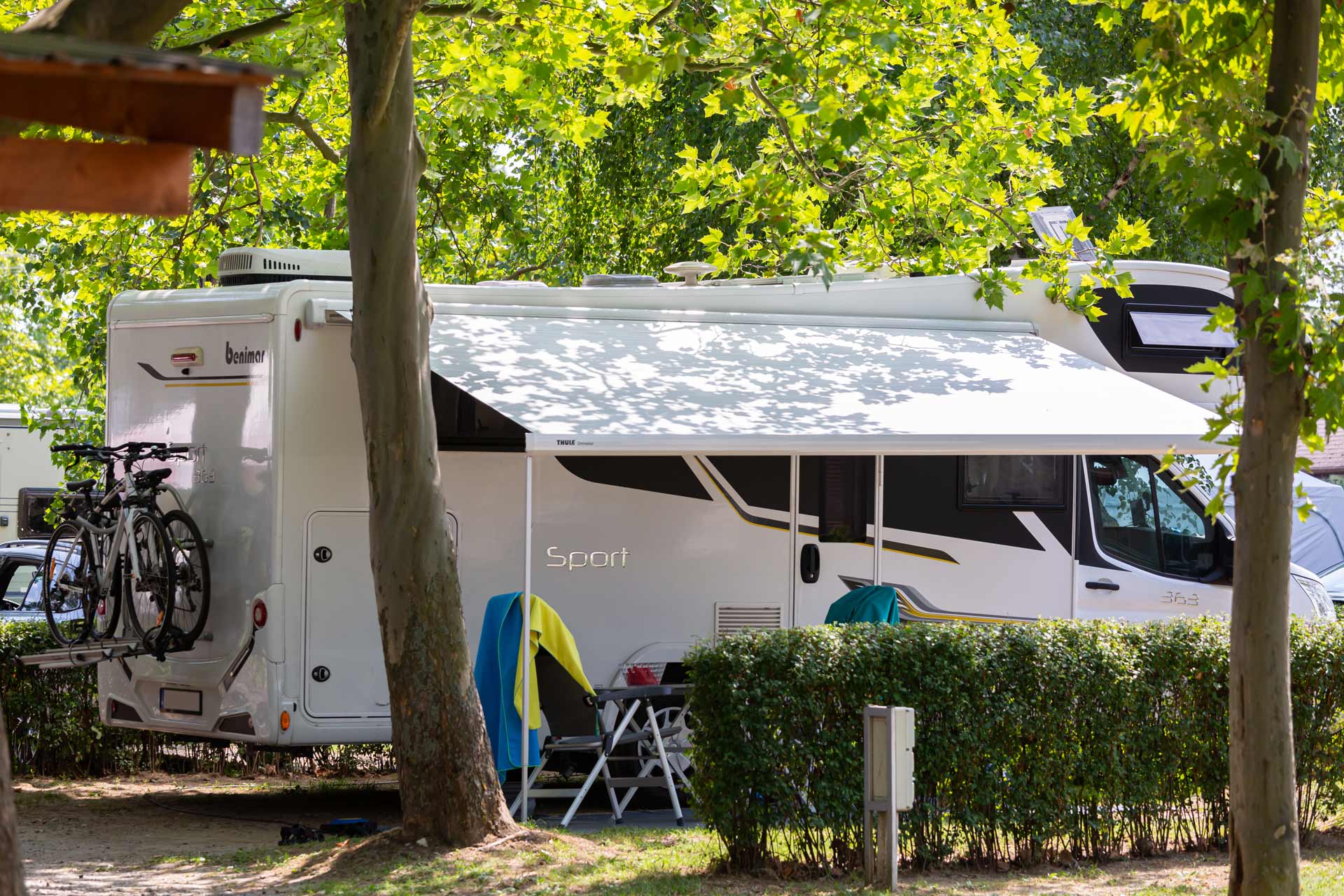 Which vehicle should I choose?
A caravan is a vehicle that does not have an engine and is towed by another vehicle, such as a car. In terms of size, caravans are usually larger than motorhomes. There are many types, but the trailer usually includes a tiny bedroom, a bathroom, and a kitchen-dining room. There are also types that do not have their own bathrooms, but this does not detract from the enjoyment of a caravan holiday, as the campsite also has clean and tidy toilets and showers that you can use. If you need more space for cooking, you can use Mirabella Camping's well-equipped kitchen or cozy fireplaces.
A motorhome differs from a caravan in that it has its own engine, so it doesn't need a separate vehicle to tow it. Motorhomes also have a bedroom, bathroom, kitchen, dining room, and often a miniature living room. Motorhomes are in most cases smaller than caravans, which can be useful in many ways.
Whether you arrive in a motorhome or a caravan, Mirabella Camping will welcome you on a spacious plot in fantastic surroundings.
Caravan plots at Mirabella Camping
Mirabella Camping has a range of caravan plots on offer, each of a different size. This means you can pick the one that best suits your requirements. There are also two premium options: 'comfort' and beachside plots.
Stay by the water – Beachside plots
Beachside plots are some of the largest, ranging between 100 and 130 square metres. This is one of our most unique plot types: each one has an undisturbed view of Lake Balaton.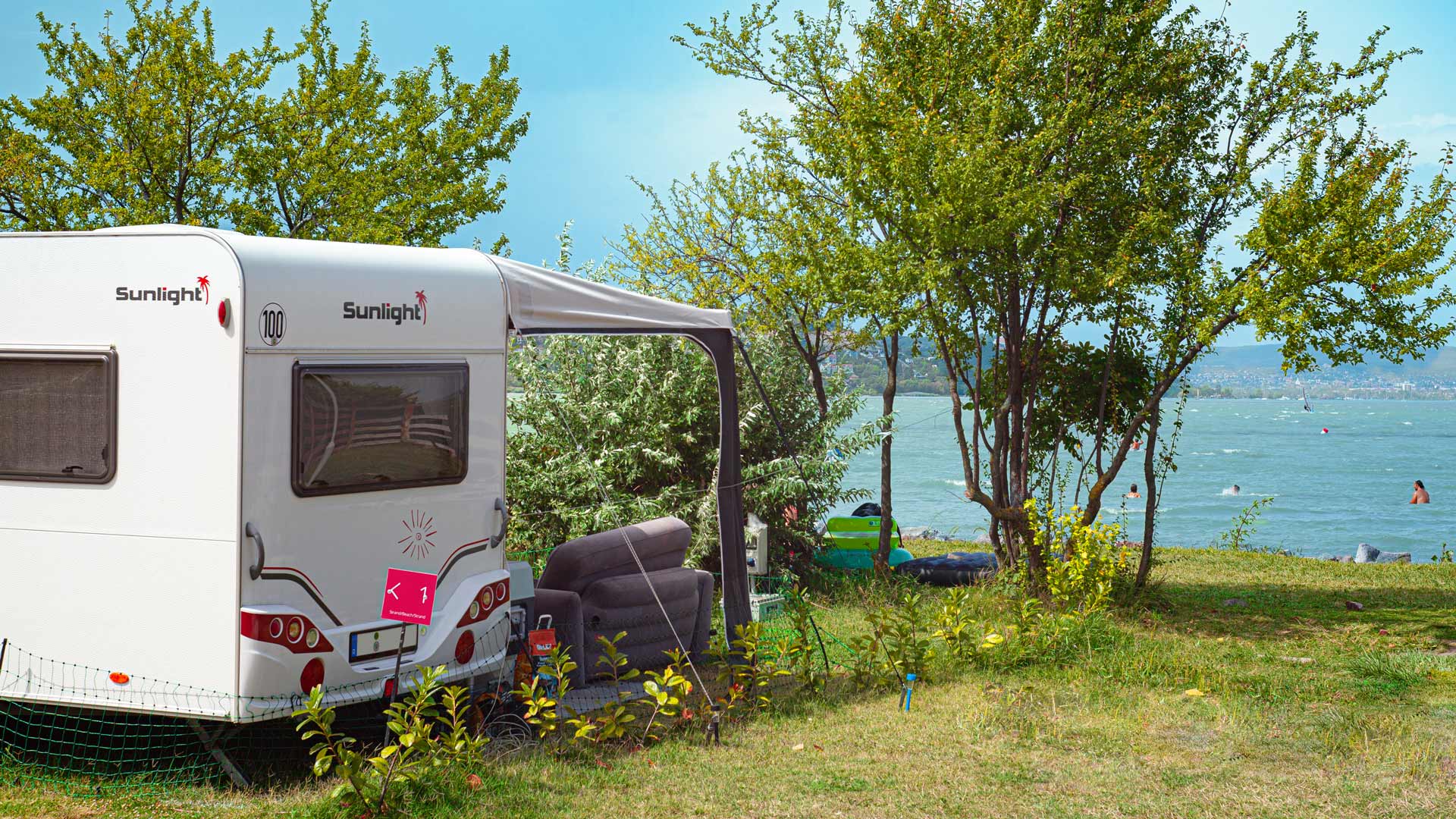 'Comfort' plots
These plots are the ideal choice who don't want to compromise on comfort while enjoying a caravan holiday. Each of these plots has water and wastewater mains connections. Stay on a 'Comfort' plot and you will be able to make use of these without having to leave your caravan.
What is included in the base price?
When you book a caravan plot, you get more than just a stretch of land. The base price includes a number of extras:
1 motorhome + 2 people
or
1 caravan and the car that tows it + 2 people
or
1 tent and one car + 2 people
10 amp mains electrical connection
Free Wi-Fi at the designated parts of the reception
For an additional fee, you can include more extras if you want to bring a pet or set up a pavilion, for example. You can select any optional extras when making your booking, or you can request a tailored quote.
Can I reserve my favourite spot?
Yes, you can. If you have your heart set on a particular spot, you can reserve your preferred plot for an additional fee. If you want to make use of this opportunity, do not hesitate to make a booking before someone else snatches up your favourite spot.
Click HERE to read more about our caravan plots.
Enjoy the sunset in a caravan, right by the beach
Nothing beats the atmosphere of a summer evening by Lake Balaton. Staying at the campsite allows you to enjoy the quintessential summer experience. Peace and quiet, a great atmosphere, perfect weather, prepping for dinner, the sight of the caravans lined up along the beach and the twilight are guaranteed to provide some unforgettable holiday memories.
Book your accommodation
If you've got in the mood to experience freedom, all you have to do is book a caravan plot at Mirabella Camping. Just select the plot type that best suits your preferences, and book your holiday as soon as possible. Booking your accommodation online could not be simpler, and you can use your debit or credit card to pay. Whether you arrive in your own vehicle or a rental, your best ever holiday is about to begin!