A caravan holiday is a fantastic way to make new memories, and Mirabella Camping in Zamárdi offers the true camping experience to its visitors. We are confident that Mirabella is the best campsite around Lake Balaton: thanks to its standard of equipment and comfort it can satisfy even the most discerning guests. Zamárdi and its neighbouring area are also home to a wide range of events and activities, so delay no longer, come and visit us!
New 'comfort' pitches for caravanners
We introduced new 'comfort' pitches at the campsite this year, offering our guests even more room and more comfort during their holidays. These caravan pitches also have water, wastewater and mains connections, so you will not have to use the shared toilet and bathing facilities.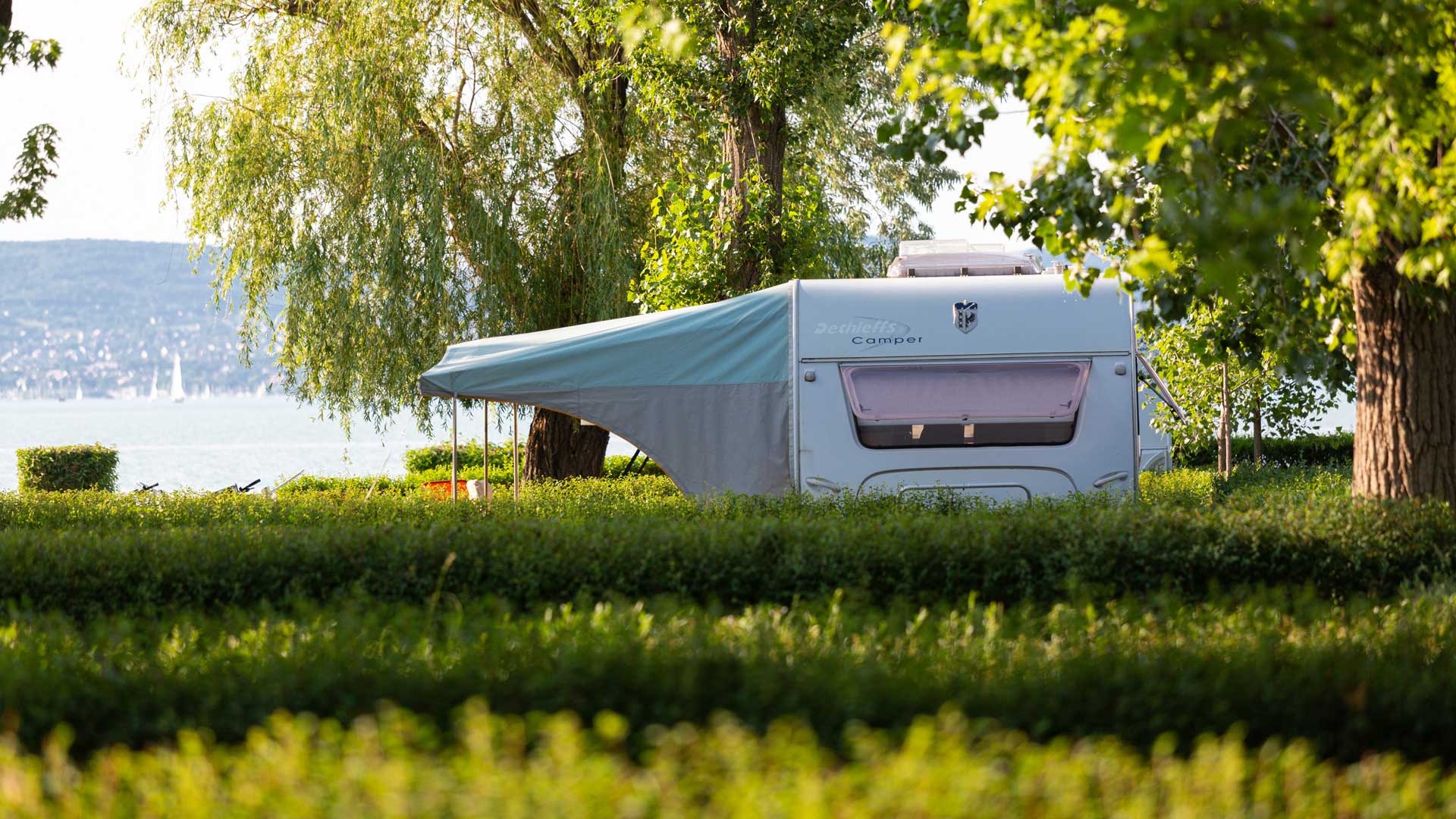 The campsite has a number of natural advantages. First and perhaps foremost, it has its own private beach access. You can rent a pitch right by the beach, and set up camp with Lake Balaton on your doorstep.
The campsite map helps identify these plots. Click here to download the campsite map »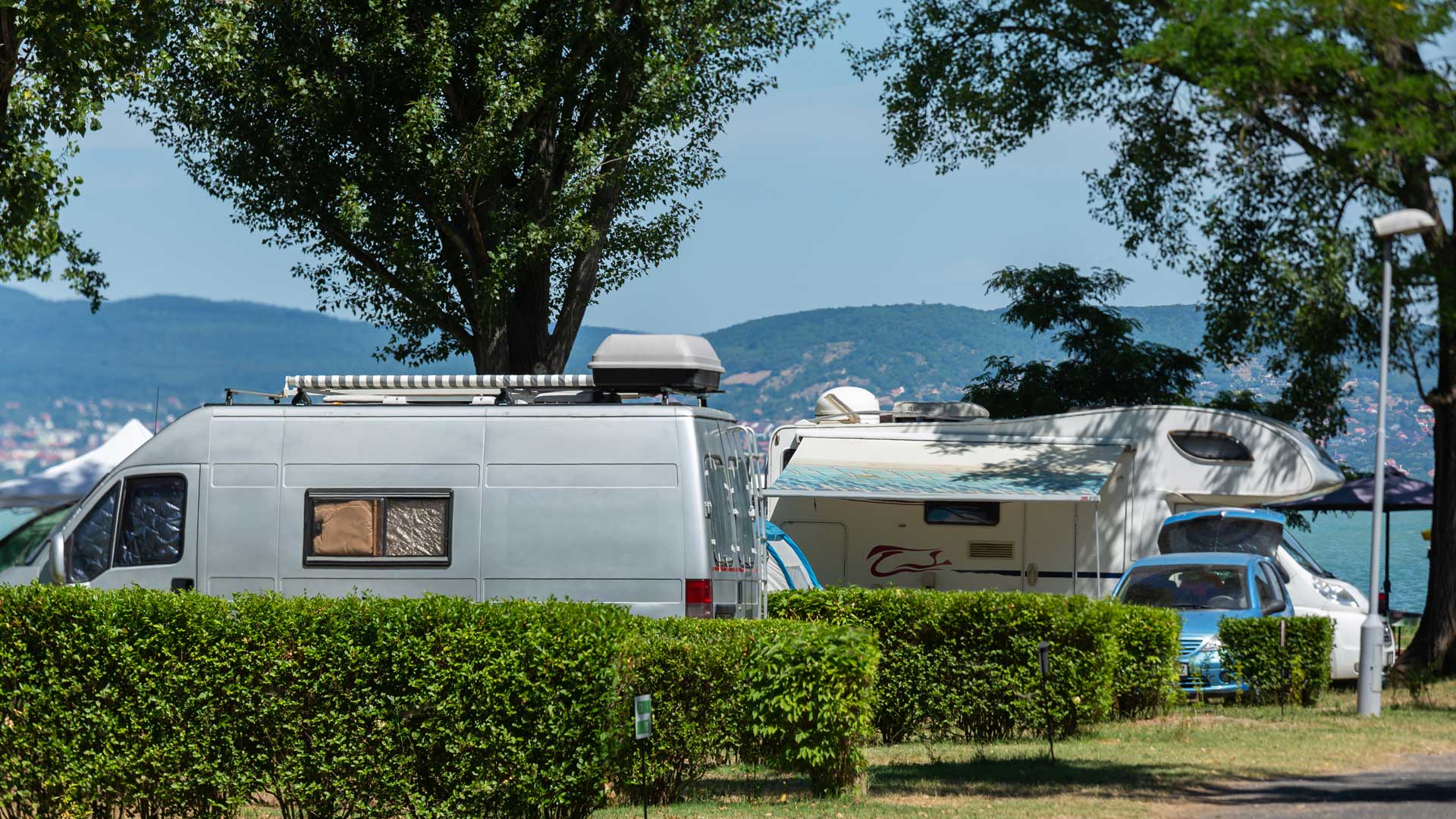 We guarantee a fantastic holiday to all caravan enthusiasts!
What does each pitch offer
Pitches between 60 and 130 sqm
Our standard pitches range between 60 and 130 square metres, so you will definitely find the one that suits the size of your caravan. In the interest of privacy, pitches are separated by hedges. This also helps make the boundaries between them clear. All pitches come with 16 Amp mains connection.
'Comfort' pitches between 100 and 130 sqm
Naturally, these also have all the amenities that standard pitches offer, i.e. you will benefit from a 16 Amp mains connection and boundary hedges. The extra they offer, and why they deserve the 'comfort' label is that they also have water and wastewater connections, which will make your holiday that much more convenient.
What you will find at each plot
The price of each caravan pitch includes the following:
room for 1 caravan
parking space for 1 car next to the caravan
room for 1 tent (you can also pitch extra tents for an additional fee)
16 Amp mains connection
The number of holiday-makers at each caravan plot depends on the size of the pitch
Pitches between 60 and 79 sqm and those between 80 and 99 sqm have enough room for 6 people each. Those between 100 and 130 can accommodate 8, 'comfort' plots of 100 sqm have enough room for 6, and 'comfort' plots of 130 sqm can accommodate up to 10 people.
Click here for all the important information about our pitches, to submit an inquiry or to make a booking »
Services at the campsite
The campsite has three sanitary facility units, each offering clean and well-equipped toilets and bathing facilities. Each of the units contains a kitchen as well, equipped with hobs and microwave ovens that you can use to cook meals.
You can also rent your own fridge section, meaning only you will have access to a locked section of the large, shared fridges.
Make your life even easier by renting a fridge, which you can use right on your tent or caravan pitch. We also have tables and chairs in case you would like to sit in front of your caravan to enjoy a glass of wine, a chat or even dinner. Ask at the reception about these services.
These services are available to all guests, whether they are staying in a caravan or in a tent.
Free Wi-Fi
Unlike other campsites, we offer free Wi-Fi across the premises. This can make life a whole lot easier, even while you are on holiday.
Pet-friendly accommodation
The campsite is animal friendly, and we are happy to welcome up to 3 pets on each caravan plot.
Reserve a specific plot
You have the option to reserve a specific plot, meaning that for an extra fee you will be able to stay at the pitch of your choice. To use this option, please specify the plot number in the 'notes' section when you make your reservation.
Click here for more information on reserving a specific plot »
Don't miss the latest news!
Subscribe to our newsletter, and you will receive first-hand information about events, promotions and opportunities that may be useful for making the most of your holiday.
Click here to subscribe to our newsletter »